Bangkok's stalls show development fruits yet to be shared by all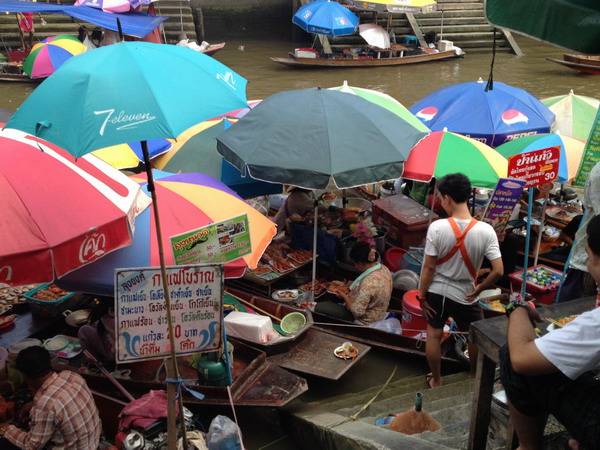 Busy vendors on Amphawa Floating Market. [Photo by Yang Jie/China Daily]
THE THAI MINISTRY OF TOURISM AND SPORTS has denied reports that the municipal government of Bangkok plans to prohibit roadside stalls, which had sparked heated discussion, as many believe the street sellers are an essential part of the city's character. People's Daily comments:
Most of the food stall operators and fruit sellers are nonlocals, who earn their living from their roadside businesses. Although they may be able to support their basic needs, it is difficult for them to climb up the social ladder.
To some extent, the prosperity and the problems of the roadside markets in Bangkok epitomize the Southeast Asian economy. In the past 20 years, most developing countries in the region have maintained high-speed economic growth, thanks to their market-oriented reforms and embracing of globalization. But the development fruits have yet to benefit all of the people, and instead they have widened the income gap. Thai government statistics indicate that 10 percent of the population possesses 35 percent of the social wealth and 10 percent of the population lives below the poverty line.
The large number of people working in the roadside markets in Bangkok means the government should urgently help transform the lower-end laborers to medium- and high-level laborers by providing necessary channels and opportunities.
The existence of such a large marginalized population may undermine social stability, as its members are more likely to fall prey to economic recession. The same problem exists in Cambodia, Indonesia, Myanmar and some other countries in the region to different degrees.
The governments of these countries have drawn up economic growth plans that prioritize the needs of the people, instead of the needs of the macro-economy, and they are making efforts to increase poor people's incomes, improve productivity and restructure their national economies.
It is more difficult to divide wealth fairly while maintaining growth than simply focusing on boosting growth. But every effort to do so is worth it, because it can help those on the bottom rungs of the social ladder.