Messages mean more than just a ceremonial exchange of goodwill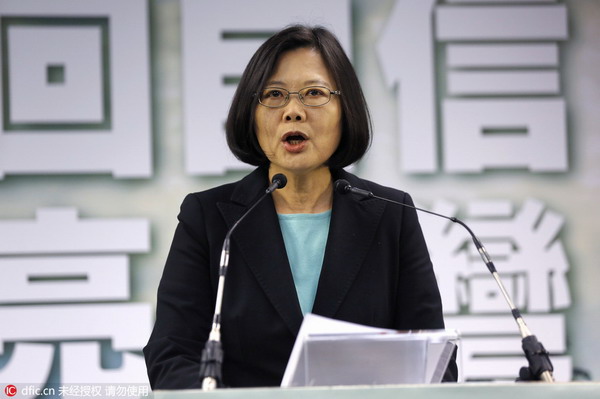 Taiwan's main opposition Democratic Progressive Party, DPP, Chairperson Tsai Ing-wen speaks during a press conference in Taipei, Taiwan,on April 15, 2015. [Photo/IC]
In a congratulatory message to the chairman-elect of the Kuomintang in Taiwan, Communist Party of China General Secretary Xi Jinping expressed the hope that both parties will continue to adhere to the 1992 Consensus and resolutely fight against "Taiwan independence" .
In his return message, Wu Den-yih said the two parties should keep deepening the consensus on one China and seek to institutionalize cross-Straits peace.
Ceremonial as it looks, this exchange of pledges of commitment to the 1992 Consensus is essential after the recent confusion created by local media about Wu's faith in one China.
As a KMT veteran and seasoned politician, Wu certainly knows the critical importance of the 1992 Consensus in which Taiwan and the mainland agreed there is one China.
The tense standoff that has developed between Taiwan and the mainland since Tsai Ing-wen's administration took office on the island shows what can happen when that consensus is not upheld. Tsai, despite Beijing's repeated calls, has refused to commit to the consensus, which is widely accepted as both a guarantee and precondition for constructive interaction between the two sides.
Beijing has made it crystal clear that all the troubles facing Tsai and bilateral ties originate from her stubborn refusal to acknowledge the 1992 Consensus. Present and past cross-Straits ties prove the only way out of those troubles is to accept the reality there is only one China.
The biggest mistake Tsai has made is demolishing the groundwork the KMT painstakingly laid for cross-Straits relations under the island's former leader Ma Ying-jeou. With the rapport of the Ma-era gone, Tsai has seen one door after another slammed shut on her administration.
Tsai's failure is rooted in her delusion that she was entitled to inherit everything that was present when she took over, ignoring the fact that many of the island's new-found benefits and privileges were contingent on good relations with the mainland. In other words, those are dividends of cross-Straits rapport.
Since Tsai has chosen to turn her back on Beijing, there is no rapport and thus no accompanying dividends.
It remains a big question whether the KMT can successfully accomplish the transformation its leadership has envisioned and regain voter confidence. But the party's commitment to one China is at least a precious check on separatist sentiment on the island.
For that reason, we salute incumbent KMT chairwoman Hung Hsiu-chu's dedication to her party's unity as well as one China, and wish Wu, the new party chief, good luck in rebuilding and reinvigorating the KMT.