Meeting the rising demand for housing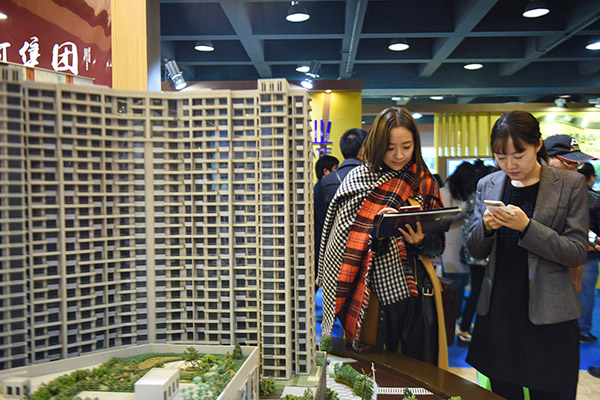 A potential homebuyer checks out a property project in Hangzhou, Zhejiang province, Dec 17, 2016. [Asianewsphoto by Long Wei]
After the Central Economic Work Conference in December said "houses are for living in, not speculation", the Government Work Report in March reiterated the fact and vowed to accelerate the establishment of a long-term mechanism to promote the steady and healthy development of the real estate sector.
The aim of the recent tightening policies is to curb speculation in the real estate sector, prevent market risks, and promote the healthy development of the property market. But to achieve those goals, the regulating policies should also focus on the supply and demand sides of the property market.
On the demand side, the housing loan policy has been further tightened, and an increasing number of cities are imposing restrictions on homebuyers. On the supply side, the supply of land for construction will be increased in key cities to meet the rising demand for houses and curb prices. But to effectively cool down the realty in the long run, authorities have to streamline the rental property market and build more affordable houses.
Public rental housing is a new type of social security housing. In 2010, seven ministries and departments, including the Ministry of Housing and Urban-Rural Development, jointly issued a guideline to expedite the development of public rental housing, under which houses will be rented out to low- and middle-income households that cannot afford to buy a house, as well as migrant workers.
The 2015 Central Economic Work Conference vowed to further deepen the housing sector reform and expand the list of applicants for rental housing to include residents who have been living in a city for a long time but do not have hukou (household registration). In reality, however, it is still difficult for migrant workers and long-time residents to apply for public rental housing. So cities with a large number of migrant workers should relax the rules for migrant workers to access public rental housing.
Many local governments have invested huge amounts of money to build public rental housing units. But in some areas, the actual occupancy rate of public rental properties is not very high because of unreasonable project planning, the non-transparent allocation process and/or high application threshold, which is a huge waste of public resources.
Government surveys on public rental housing focus on the number of units constructed and the supply of such housing units while ignoring the occupancy rate, and thus fail to indicate what measures are needed to meet the public rental housing demand. Perhaps giving more migrant workers and non-native residents access to rental housing and providing house-rent subsidies could ease the demand for housing.
In February, Beijing became the first Chinese city to introduce an official standard for buildings with rental housing, which allows small but livable apartments-between 15 square meters and 22 sq m-to be rented out. The Beijing authorities have also stipulated that public rental housing projects should come up in areas that have fairly good infrastructure, including a convenient public transportation system. This is an example other Chinese cities would do well to follow.
The Ministry of Housing and Urban-Rural Development also requires local authorities to accelerate the construction of public rental housing this year to ensure 2 million housing units are ready to be let out. But to facilitate the steady and healthy development of public rental housing across the country, the ministry should also introduce a standard for systematic and comprehensive national construction and evaluation. And apart from providing more small apartments with basic furniture and domestic appliances for rentals, builders could also offer dormitories to rent.
In a nutshell, public rental housing should follow a national standard to ensure the occupants can live in relative comfort.
The author is a researcher at the Institute for Urban and Environmental Studies, Chinese Academy of Social Sciences.