Is Belt and Road Initiative just political rhetoric?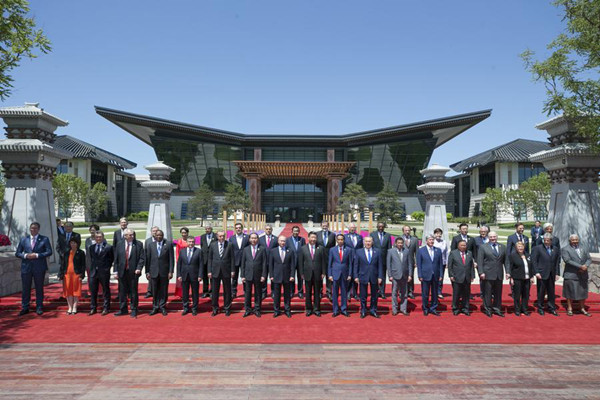 President Xi Jinping, foreign delegation heads and guests pose for a group photo at the Leaders' Roundtable Summit of the Belt and Road Forum for International Cooperation at Yanqi Lake International Convention Center in Beijing, May 15, 2017. [Photo/Xinhua]
BEIJING -- The Belt and Road Initiative has made headlines. While some Western commentators view it as just political rhetoric, those skeptics have failed to see the facts.
The initiative is positioned as a stimulus for common prosperity in a world fraught with sluggish growth, shrinking trade, stalling investment and emerging de-globalization.
It passes on the genes of the ancient Silk Road -- peace and cooperation, openness and inclusiveness, mutual learning and mutual benefit -- and more importantly, capitalizes on modern finance, technology and logistics networks.
Infrastructure, policy coordination, lower trade barriers, financial support and closer personnel exchange are the centerpiece of the initiative, and these are progressing step by step.
Over the four years since its proposal, the Belt and Road is gaining partners because of the tangible outcomes it has yielded, not the immensity of its ambitions.
Hefty investment and brick-and-mortar projects have made the initiative a reality, bringing it far beyond just a vision.
From Mongolia to Malaysia, Thailand to Pakistan and Laos to Uzbekistan, many projects including high-speed railways, bridges, ports, industrial parks, oil pipelines and power grids are being built.
Better infrastructure and lower barriers ensure the free flow of capital, technology and people, with goods, resources and benefits widely shared in all countries involved.
Trade between China and Belt and Road countries rose 0.6 percent in 2016, compared with a 0.9-percent decline in China's overall foreign trade.
International businesses from countries along the routes and beyond are scaling up investment under the initiative.
Since 2013, Chinese businesses have invested more than 60 billion U.S. dollars in countries along the routes. The amount hit 14.5 billion dollars in 2016 alone, or 8.5 percent of total overseas investment by Chinese enterprises.
In the business world, reality means the money being spent. Companies invest because they see opportunities, not because their governments ask them to.
Even the Silk Road Fund, set up in 2014 with backing from China's sovereign wealth fund and development banks, seeks fair returns on its investment while funding the Belt and Road. To meet an enormous funding demand, President Xi Jinping announced Sunday the injection of an additional 100 billion yuan (14.5 billion dollars) into the fund.
To support the initiative, China will also set up new lending schemes worth 380 billion yuan and encourage its financial institutions to conduct overseas yuan fund businesses with an amount of about 300 billion yuan.
The massive boost in funding shows China's determination to push forward the Belt and Road.
So far, over 40 countries and international organizations have signed cooperation agreements with China to advance the Belt and Road. More are expected to join.
They have known too well that the initiative, which encourages extensive consultation, joint contribution and shared benefits, is not a zero-sum game, but a path to common development.
It's true that building the Belt and Road, which links countries and regions that account for about 60 percent of the world's population, 30 percent of global GDP, as well as different cultures and societies, will not be easy.
Yet as the saying goes, "Rome wasn't built in a day." With concrete actions and dedicated efforts, the Belt and Road will generate benefits for all countries involved, and beyond.