Overseas Chinese entrepreneurs urged to get involved in Belt and Road Initiative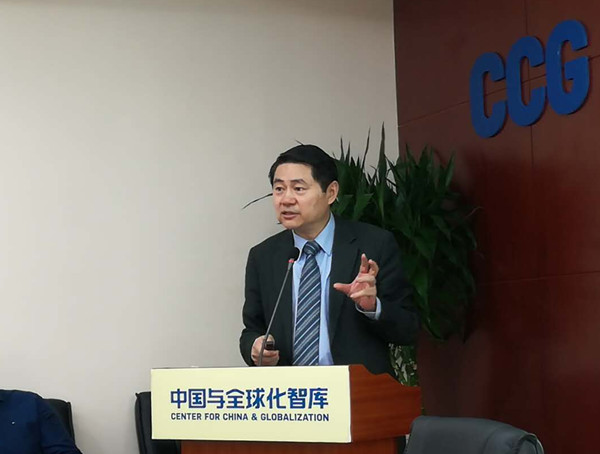 Wang Huiyao, president of CCG,19,April, 2017 [Zhao Manfeng/chinadaily.com.cn]
The Belt and Road Initiative is offering overseas Chinese businessmen opportunities in various fields like infrastructure, e-commerce and new technology, the head of a leading Chinese think-tank says.
The Center for China and Globalization has launched a new publication Report on Development of Overseas Chinese Entrepreneurs 2017, co-authored by CCG president Wang Huiyao and Kang Rongping, director of CCG's World Chinese Entrepreneurs Institute.
The report argues that overseas Chinese entrepreneurs are in a unique position to contribute to and capitalize on the development of China's economy.
The total investment by Chinese enterprises in B&R-related countries amounted to $18.9 billion in 2015, up 38.6 percent from the previous year. That accounts for 13 percent of the total overseas investment that year, according to statistics from the Chinese Ministry of Commerce.
CCG's new report suggests Chinese entrepreneurs could join the building of the overseas industrial parks, infrastructure projects and seek financing cooperation to get involved in the B&R initiative.
The report cited more than 70 industrial cooperation projects under construction in the countries related to the Belt and Road.
"China-Malaysia Qinzhou Industrial Park and the Malaysia-China Kuantan Industrial Park set a model for the new cooperation," Wang said.
Similarly, Huoerguosi Economic Development Zone, the Astana – New City special economic zone along the new Eurasian continental bridge, the Jurong Industrial Park in Singapore and the China-Indonesia Economic and Trade Cooperation Zone in Southeast Asia are following this trend.
According to the Asian Development Bank, total investment demand for infrastructure in the Belt and Road countries is forecast to reach $8.2 trillion by 2020. As most countries along the Belt and Road are facing infrastructure deficits, overseas Chinese entrepreneurs could invest in expressways, high-speed railways, ports, petroleum transmission pipelines, and cross-border cable, suggested Wang.
As reported by the Bangkok Post, the high-speed train connecting China's Kunming and Bangkok via the Laos capital, Vientiane, will boost the GDP of China, as well as those of other ASEAN countries involved, by $375 billion.
Financial investment in building the Belt and Road Initiative will bring long-term and stable returns for overseas Chinese entrepreneurs, either through cooperation with Chinese financial institutes or through the Asian Infrastructure Investment Bank, under the current economic downturn, Wang said.
"As we are now strengthening our production capacity abroad, overseas Chinese businesspeople are our great partners in different countries," Yu Xiao, Secretary-General of the China Overseas Chinese Entrepreneurs Association, said.
In 2016, 47 overseas Chinese businesspeople in Southeast Asian countries were on the Forbes Billionaires List. Among them were 15 Singaporeans, 10 Indonesians, eight from Thailand, eight from the Philippines, and six Malaysians.
Apart from promoting bilateral trade between China and the ASEAN region, Chinese businesspeople in Southeast Asian countries could act as go-betweens for mutual investment, and provide consultant services to Chinese entrepreneurs using their profound knowledge on local policy, law, and culture, Yu Xiao said.