China's role in steering the future of globalization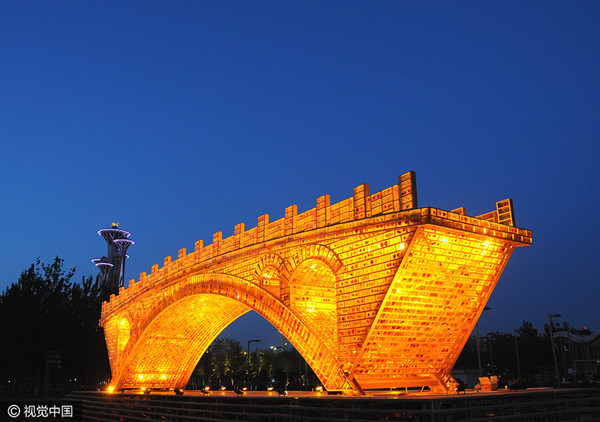 The newly built "Silk Road Golden Bridge" in Beijing Olympic Park gets its lights tested on April 18, 2017, in preparation for the upcoming Belt and Road Forum for International Cooperation that will be held from May 14 to 15. [Photo/VCG]
Globalization stands at a crossroads, making it necessary for us to fully comprehend the trends before drafting diplomatic policies.
There are three rules on globalization that remain unchanged.
First, the socio-cultural evolution of human society, in direct contrast with Francis Fukuyama's prediction, continues to develop.
Second, the democratization of international relations cannot be reversed.
Third, the international order and institutions established since the end of World War II will continue to play their roles.
However, three diversions in the process of globalization are notable.
First, the United States, as a key leader of the globalization process, is now seeking to change the rules of the game in its own favor.
Second, the fiasco of economic neoliberalism calls for new thinking and solutions for the global governance.
Third, China as a rising power has become an important driving force in reshaping the world.
In response to both its own needs and the world's, China has played its role in global governance by providing public goods according to its capability. Big events like the G20 Hangzhou Summit last year, the upcoming Belt and Road forum in Beijing and BRICS Summit in Xiamen illustrate China's efforts to contribute to the world.
Institutions like the G20, BRICS, SCO and AIIB, which China is endeavoring to promote in order to give developing countries more say and decisive rights in global governance.
Facing the challenges, Chinese leaders have also come up with new thinking and solutions on global governance like the Belt and Road initiative based on mutual negotiation, co-building and benefit-sharing. The construction of a global partnership network and a human community with a shared destiny is expected to cast light on the global problems.
The world needs China and vice-versa. The future of China depends on the extent to which the biggest developing country participates and steers globalization and its management.
The author is co-chairman of the Center for China and Globalization and former vice minister of the Ministry of Foreign Affairs. The article is translated by Pan Tingli, an intern with Chinadaily.com.cn