A new growth point for world economy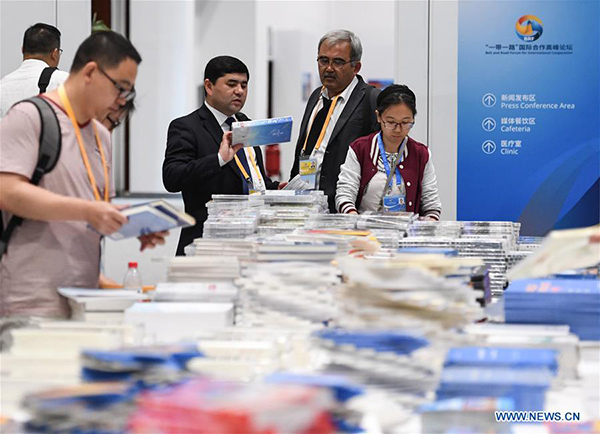 Journalists collect materials at the media center of the Belt and Road Forum for International Cooperation in Beijing, capital of China, May 12, 2017. [Photo/Xinhua]
In Europe, the Belt and Road Initiative does not get the attention it deserves. However, the history of the ancient Silk Road has fed our imagination for centuries. Today, China speaks for reality while Europe is limiting itself to curiosity. But newly elected French President Emmanuel Macron can accelerate Europe's interest in the initiative.
President Xi Jinping surprised the rest of the world when he announced the Belt and Road Initiative. As often happens in China, the idea is the result of a deep strategic reflection.
China is seeking big markets for its industrial products. Marginal gains of globalization are shrinking, and growth needs a new revival. In Asia, this new revival is called connectivity. By helping the economies along the Belt and Road routes to develop and improve their infrastructure, hard and soft, China is reinforcing its openness and the upgrading of its manufacturing sector.
The initiative will also help the internationalization of its currency and, in the long run, the transformation of its growth toward quality.
Europe should find interest in this. Under the initiative, cooperation with China on its two aisles, Eurasia and "Eurafrica", can allow the European Union to reach its economic growth and employment targets.
That big geostrategic region must become "a community of interests, of responsibility and common fate".
As Premier Li Keqiang has often said, "today, no nation can succeed alone". Therefore we must invent international engaging projects. This perspective is definitely pacifist. And by serving development and prosperity, it serves peace.
China's analysis needs to be studied. In the past, the East was the place where goods were born, and the West where they matured. Today, the West is standing still or even going backward while the East initiates reforms.
Asian dynamics must reach Europe. As a country of new technologies, France is ready. Its interest is even more relevant since the United States has become more unpredictable and is turning toward the Asia-Pacific region while ignoring Europe.
Eurasia is the future global balancing power. In the initiative, Europe can find a historical opportunity to put itself into a more central world position. So, is this the time to redefine transatlantic relations?
For China, the West-led globalization has created harsh competitions, partly destructive. It points to civilizations moving backward, for example, by giving rise to populism in the West and Brexit. That is why the election of Macron as French president sends a message of trust and hope.
Eurasia, marked by great civilizations such as Egyptian, Babylonian, Greek, Indian and Chinese, can be the place of rebirth of civilization. And oceans must again find a place in this civilization.
The Belt and Road Initiative, like other innovative 21st century ideas, is not speculative or virtual. Huge financial means and multilateral tools have been invested to give shape to the initiative, which will reform global governance.
The Asian Infrastructure and Investment Bank will definitely leverage growth for Eurasian economies. And the initiative, BRICS New Development Bank and the Silk Road Fund all show that China has the power to realize its vision.
In the next five years, China will import $10 trillion worth of goods and invest more than $500 billion abroad. The current pace is faster than the 13th Five-Year Plan (2016-20) forecast. For the first time this year, Chinese investments abroad have exceeded foreign investments in China.
France is following the initiative with interest, and must realize that it directly touches its interests and alliances. This is a great opportunity for the new French president.
By choosing a message of openness, the French people have shown they are open to great adventures that serve development, hence peace.
Jean Pierre Raffarin is former prime minister of France and president of the Senate's Foreign Affairs, Military and Defense Commission, and Xu Gai is his advisor on China affairs.