Craftsmanship spirit needed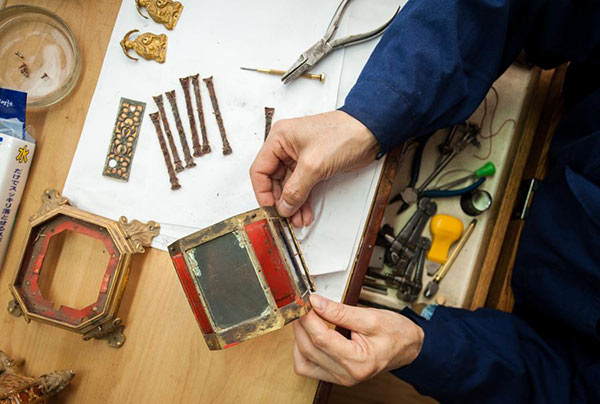 A craftsman dismantles a timepiece before repairing it in their office in the Palace Museum in Beijing, April 7, 2016. [Photo/Xinhua]
Two technicians demonstrated their formidable dexterity at a recent display of craftsmanship organized by a vocational and technical college in Shenzhen, Guangdong province.
More activities like this should be held to arouse the "spirit of craftsmanship" among young people.
Any mention of the spirit brings to mind popular stories of the past, such as the butcher skillfully dismembering an ox, which show the esteem in which craftspeople used to be held.
The spirit of craftsmanship is something that is sadly lacking today. To demonstrate the spirit, manufacturers must be devoted to producing the best products possible. This is a basic code of conduct for people to follow in the modern era.
However, the reality is, China still has some way to go to realize this.
According to a recent survey conducted by Japan's Ministry of Economy, Trade and Industry, Chinese consumers purchased 62.5 billion yuan ($9.06 billion) of Japanese goods via the internet or in other ways in 2016. In the first quarter of 2017, foreign tourists spent nearly 967.9 billion Japanese yen ($8.7 billion) in Japan, half of which was by Chinese tourists.
The popularity of Japanese commodities among Chinese can be attributed to their high quality and the spirit of craftsmanship exhibited by the Japanese.
The quality of China's homemade products has considerably risen in recent years, but the services and quality of quite a lot of them are generally at a low level, partly due to the lack of technologies but partly due to the lack of the spirit of craftsmanship.
The number of Chinese visiting Japan to buy Japanese products underscores the need for China to restore its craftsmanship spirit.
-SZNEWS.COM