Students' priority should be studying not home buying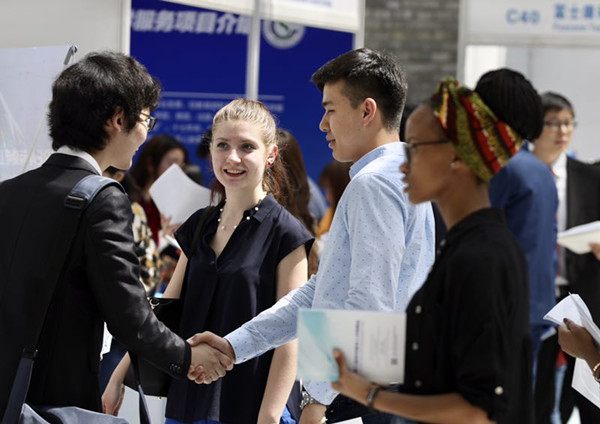 International students on the job hunt at the 3rd Career Fair for International Students in China at Peking University, Beijing, on April 22, 2017. [Photo by Zhu Xingxin/chinadaily.com.cn]
FIVE PROVINCIAL CAPITALS, Wuhan, Changsha, Chengdu, Hefei and Nanchang, are now allowing students at college to pay into the government housing provident fund on a monthly basis. Thepaper.cn comments:
The fund was initially designed as a subsidized means for an employee to save for, and eventually complete, a housing purchase. Extending the fund to include college students is the result of the rising anxiety and demands of young people in the face of the continually rising housing prices in cities.
But paying into the provident fund may encourage college students to harbor the illusion that buying a home as early as possible is the most important thing in life.
The monthly financial burden may deprive them of some valuable characteristics associated with young people, for example, innovation and derring-do.
The government's goodwill is understandable and obvious. But it should bear in mind that the main responsibility of college students is to study. Students should not feel the pressure of house prices while they have yet to complete their studies. If the authorities allow students to be eligible to use the housing provident fund, it will send quite a strong signal that young people should strive to buy a home as early as possible.
Local governments have the responsibility to provide public housing to young people, who cannot afford to buy homes after finishing their studies. And local governments are also obliged to keep real estate prices at a reasonable level in light of local residents' incomes.
These are more important and urgent tasks for the government to do than simply allowing college students to pay into the provident fund using their parents' money.