IPR protection example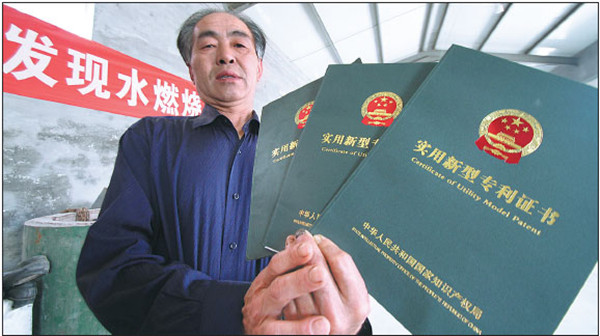 A senior inventor shows his official patent certificates for his innovations in boilers. Facing a growing number of patent filings, the State Intellectual Property Office is working to speed up its processing process.[Photo provided for China Daily]
According to the data from a weeklong publicity activity in Shenzhen aimed at promoting intellectual property rights protection, there were 140,000 domestic patent applications in the city in 2016, and the city of South China's Guangdong province accounted for approximately half of China's international patent applications that year.
These, coupled with the more than 1,600 IPR-related crimes handled by the Shenzhen police over the past three years, are enough to testify to Shenzhen's leading role in China's intellectual property rights protection efforts.
One of the important reasons why Shenzhen has become a universally recognized innovation leader in China and managed to escape its development bottleneck is the high priority it has placed on IPR protection. Aside from an intensified crackdown on IPR violations in recent years, Shenzhen has also been one of the first cities in China to formulate and improve its IPR-protection policies, such as strengthening its regulations on protecting technological secrets and protecting software intellectual property rights.
Targeting the high legal costs that prevent many enterprises from using the courts to protect their intellectual property rights, Shenzhen is trying to perfect its established criminal accountability mechanism for IPR infringements and seeking to set up a compensation mechanism for losses caused by IPR violations.
Shenzhen is also the first city in China to take active measures to explore an open IPR protection mechanism, in which industrial associations, specialized agencies and other players are encouraged to participate.
Shenzhen is now accelerating its efforts to build itself into an international center for high-tech and innovation, its IPR protection efforts are essential to help it realize this target. At a time when China is attempting to strengthen its IPR protection, Shenzhen is setting a good example for the rest of the country to follow.
-IFENG.COM