Class sizes betray educational fairness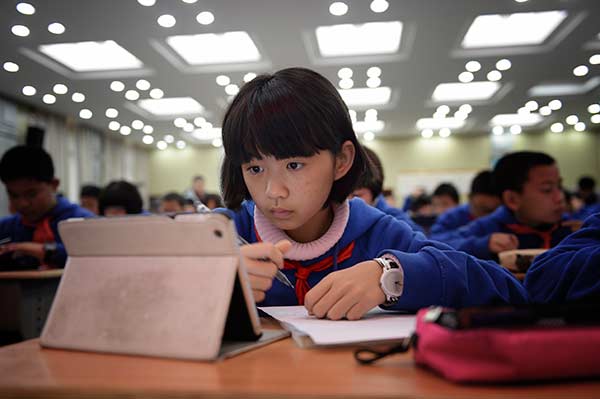 A student learns from an online open course in a middle school in Changsha, Hunan province on Nov 28, 2014. [Photo/CFP]
A RECENT REPORT on China's educational development says that the average size of a primary school class across the nation has declined in recent years, while the average size of many junior and senior high school classes in cities has grown. China Youth Daily commented on Thursday:
The downsides of overlarge classes are self-evident. In a classroom packed with more than 100 students it can be hard to ensure all the students get the attention they need. Besides, overcrowded classrooms pose safety risks if there is an emergency.
Urbanization means the number of rural students seeking pre-college education in big cities is increasing, but this growing demand is not dealt with properly, especially in some densely populated provinces such as Henan.
The other side of the story is that rural education has gone steadily downhill following the exodus of local students. That more teachers also aim for better pay and brighter career prospects in urban schools further adds to the vicious circle.
Scientific planning and preemptive measures, such as reserving enough land for building bigger schools, could help resolve the dilemma facing urban schools. But that means expanding the quota of school admissions, which is not likely to happen in the short term.
A more viable solution is improving the facilities of rural schools and encouraging quality teachers to start or restart their careers in rural areas.
Narrowing the education gap between urban and rural areas would prompt more rural teenagers to study in their hometowns, reducing the size of classes in city schools. Such an approach has worked well in some cases.
In fact, there is always enough room for targeted funds allocation that focuses more on rural education. That many less developed places have succeeded in raising rural teachers' wages and enrolling more rural students adds weight to the fact that priority should be given to educational fairness.