Fake and adulterated food makers will have to pay the deserved price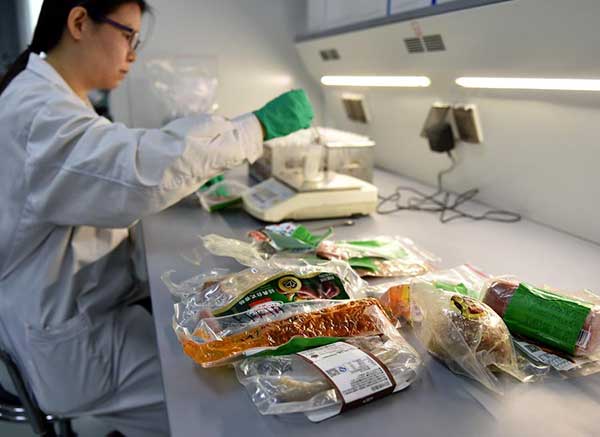 Food safety administration staffs inspect a restaurant in Ningbo, Zhejiang province, on Nov 10, 2014. [Photo/Xinhua]
ON APRIL 6, the State Council, China's Cabinet, issued a document mapping out a guideline for work on food safety in 2017 with the goal of ensuring people's health and safety. According to the guideline, a legal framework for food safety should be established and law enforcement enhanced to severely crack down on illegal activities such as producing or selling fake and adulterated food. The Mirror comments:
Food scandals have happened repeatedly in the past few years; everybody is aware of melamine contaminated milk, meat that had been stored for decades, as well as gutter oil.
There are many reasons for such dangerous practices, but one of them is that the penalties are too light. As a result, many involved in the producing or selling of counterfeit or adulterated food products simply pay a fine if caught without going to prison.
The Food Safety Law, amended in April 2015, has drawn a "zero-tolerance" line for counterfeit food products, but both the amendment to the Criminal Law and the new Food Safety Law fail to stipulate specific penalties for those producing adulterated and counterfeit food. Such a legal vacuum has left space for producers of counterfeit food and pharmaceuticals not to get their deserved punishments. Thus, it is necessary for the authorities to add targeted clauses to the country's laws.
The next step, as the State Council's document points out, is to list the production and sale of fake and adulterated foods as a crime. The State Council has laid ample foundation for that by emphasizing that anybody producing fake food should be held accountable and punished, and their information should be disclosed to the public.
Of course, if the production of counterfeit and adulterated food is confirmed as a criminal offense, the next step should be to more strictly control food safety risks by strengthening food safety supervision at the grassroots level and cracking down severely on any illegal activities that pose a threat to food safety.