Preemptive measures required so that Xiongan does not become a megacity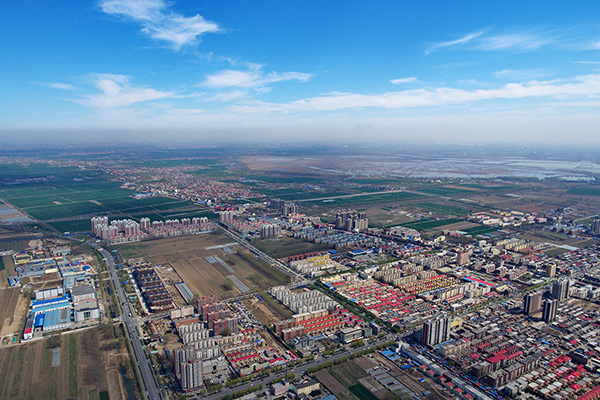 Aerial photo taken on April 1, 2017 shows Anxin county, North China's Hebei province.[Photo/Xinhua]
AFTER THE ANNOUNCEMENT on April 1 of the planned development of Xiongan New Area, a special zone about 100 kilometers south of Beijing which will span Xiongxian, Rongcheng and Anxin counties in North China's Hebei province, concerns were raised that the new area might eventually grow to be a megacity like Shanghai and Shenzhen. Beijing News commented on Saturday:
A recent report by Xinhua News Agency, which for the first time elaborated on the "millennial plan", should come as a relief to many, as it said the new area will not accommodate more than 2.5 million people.
Cities with this many people, according to the latest standards issued by the State Council, China's cabinet, are in the league of medium-sized cities. The permanent population of Beijing is over 21 million.
That being said, the Xiongan New Area is not meant to become a megacity. It instead marks a proactive move to keep at bay "urban diseases" ranging from traffic congestion and a compromised environment to resource exhaustion and oversized communities.
In particular, the new area's focus on ecological preservation and green growth adds weight to its claimed purpose-accommodating some of Beijing's non-capital functions. According to what President Xi Jinping said, the capital's core functions should be preserved and strengthened, and some inappropriate functions adjusted and weakened.
In other words, Xiongan is designed to resolve urban ills rather than repeating them. Keeping its expansion at reasonable levels, however, will not hamper the efforts to make the zone a first-class international city.
Xiongan's future development does not hinge on geographical expansion but innovation for good reason. The foreseeable influx of people could pose a challenge to the vulnerable, limited water and wetland resources in North China, and preemptive measures must be in place before the construction of Xiongan is in full swing.