Infrastructure road to better Sino-US ties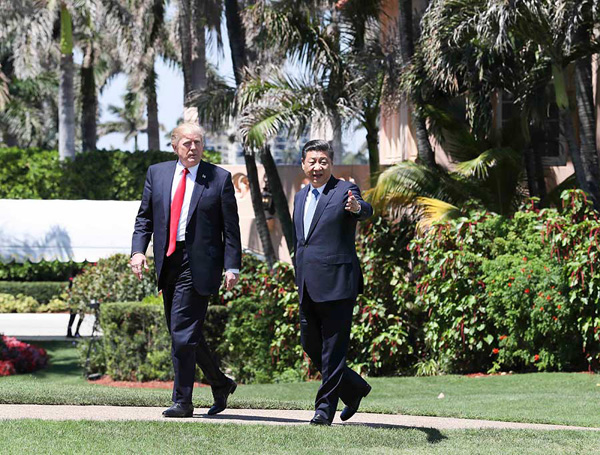 Chinese President Xi Jinping (R) and his US counterpart Donald Trump (L) take a walk to further discuss bilateral cooperation issues in the Mar-a-Lago resort in Florida, the United States, April 7, 2017. [Photo/Xinhua]
The recent meeting between Chinese President Xi Jinping and his US counterpart Donald Trump in Florida concluded with both sides saying it put bilateral ties on track. Xinhua News Agency said that during the meeting, Xi urged the two countries to push forward the negotiation on the Bilateral Investment Treaty, promote healthy bilateral trade and investment, explore and develop pragmatic cooperation in infrastructure and energy fields.
So will infrastructure investment be Xi's real gift to Trump at their next meeting?
Infrastructure investment is the centerpiece of Trump's blueprint for making "America Great Again". He has vowed to spend $1 trillion over 10 years to improve (and build) the roads and bridges.
China has attached importance to the infrastructure construction for long. Besides, the US remains China's top destination for outbound investments, with a record $45.6 billion of Chinese money pouring into the US last year alone. With its unparalleled competitive edge in infrastructure building, China could become the US' best partner in its ambitious infrastructure plan for four reasons.
First, Chinese investment in US infrastructure will help Trump to boost the US economy. The US Department of Transportation says the funding gap for road transport infrastructure alone is $900 billion. Secretary of Transportation Elaine Chao told reporters that Trump's infrastructure plan would be expanded to include energy, water, broadband, and hospitals for veterans.
Whether the Congress will pass the enabling bill is a question that no one can answer at this time. The infrastructure plan is a critical component in the president's economic initiatives collectively known as Trumponomics. A prolonged political impasse is likely to stunt the desired effects of a timely growth spurt in the economy driven by the massive spending. Trump has promised his supporters to double the growth rates in a relatively short period of time. Failure in pushing forward his infrastructure plan will not only dash the president's ego, but the prospects of economic growth and the hope of American people as well.
In just the past decade, China has invested more than $11 trillion in infrastructure, and China-US investment and trade (which reached $519.6 billion last year) created 2.6 million American jobs and helped each US household on average save $850.
Trump wants investments in those parts of the US that have suffered the consequences of deindustrialization, and Chinese companies, such as Fuyao Glass, have already invested about $1 billion to build plants in Michigan and Ohio, hiring about 4,000 American workers.
Second, an infrastructure boom in the US will provide business opportunities for Chinese as well as US companies in the construction sector. China Construction America, for example, has built landmark projects such as the Alexander Hamilton Bridge and the Fulton Center in Manhattan.
Third, infrastructure as an asset class is gaining popularity among institutional investors. Infrastructure projects are backed by governments and yield stable cash flow with a longer time horizon, and investors across the globe are keen to help finance them.
And fourth, although the US is a relative newcomer to public-private partnership, recent trends indicate that PPPs are gaining traction in the country. And given the surging populations in US metropolitan areas and the enormous infrastructure needs, the country's PPP market is expected to grow further in the coming years.
But Chinese companies also face challenges. For starters, Trump's "Buy America, Hire Americans" slogan is likely to lead to preferential treatment for domestic companies in infrastructure deals. Local vested interests such as bond issuers, contractors and suppliers will jealously guard the infrastructure pie against Chinese companies.
The recent setback suffered by Ant Financial, a subsidiary of Jack Ma's Alibaba Group, in acquiring MoneyGram showed national security concerns can be expedient ammunition against Chinese companies. Moreover, PPP deals involve complex regulatory and financial structures, and the lack of expertise on the part of certain local-level governments block PPP deals.
China can step up efforts at economic diplomacy, though, to loop the US in its infrastructure-centered Belt and Road Initiative (the Silk Road Economic Belt and 21st Century Maritime Silk Road). During his meeting with Trump in Florida, Xi said China welcomed US participation in the initiative, and the proposed US-China Comprehensive Dialogue can be used to reopen negotiation on the Bilateral Investment Treaty and invite the US to join the Asian Infrastructure Investment Bank.
In the meantime, infrastructure investment promoting mechanisms led by government agencies such as China's Ministry of Commerce, the National Development and Reform Commission, or Chinese embassies and consulates in the US, can serve as hubs for sharing information on projects and investment regulations. Furthermore, closer ties between provincial-state governments in China and the US can drive sub-level governments to collaborate with one another over infrastructure projects in their jurisdictions. This can be done via exchange platforms such as an annual US-China Governors Forum held alternately in both countries.
Also, Chinese companies can win local support if they direct their US investments toward helping local governments create jobs and develop the local economies. The China Investment Corporation, or sovereign wealth fund, for instance, can work with private equity funds both at home and abroad to form an infrastructure consortium to facilitate merger and acquisition deals and equity investments that turn US companies into local partners that help their investors take roots in local communities.
Nearing 100 days in office, Trump needs something to increase his approval ratings. His ambitious infrastructure plan is far from fully articulated, despite Chao's recent announcement that a bill could be introduced by the end of this year. It will be an uphill battle for Trump to get the Congress to approve the budget for infrastructure, because it is an arena where divergent and intricate interests play out. Trump needs allies and perhaps Xi can explain to him that China could be the one when they meet the next time.
The author is the founder and president of the Center for China and Globalization in Beijing.