Xi's visit cements better Sino-US relationship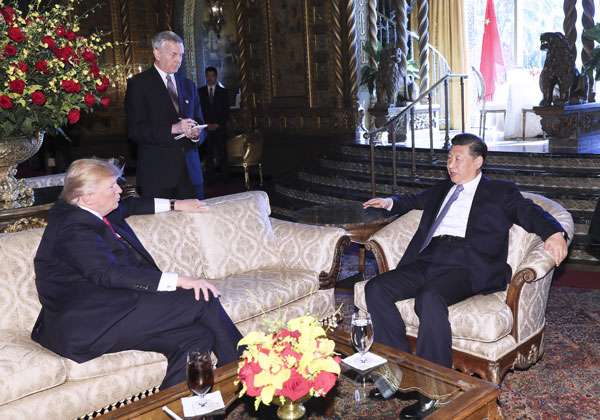 Chinese President Xi Jinping (R) and his U.S. counterpart Donald Trump (L) hold the second round of talks in the Mar-a-Lago resort in Florida, the United States, April 7, 2017. [Photo/Xinhua]
As expected, President Xi Jinping and US President Donald Trump worked to forge personal trust and a working partnership during their just-concluded talks in Florida.
Amid increasing US apprehension at China's rapid rise, it is of particular importance for the top leaders of the two countries to engage in such face-to-face meetings. Only by laying a solid foundation of trust can the two countries effectively work together for the common good. Largely this seems to have been achieved at the Mar-a-Lago estate.
In June 2013, less than three months after becoming China's head of state, Xi visited the United States to meet then US president Barack Obama. Trump has been in office even less than that, and the two leaders have had their first meeting. This shows how much importance the two countries attach to their relationship.
This time, the informal meeting between Xi and Trump highlighted diplomatic and security dialogues, and dialogues on the economy, law enforcement and cybersecurity, as well as those on people-to-people exchanges as the shapers of their future relations.
The talks have actually expanded and lifted the dialogue mechanism between the two sides in three ways from the Obama-era.
First, the Sino-US Strategic and Economic Dialogue has been formally developed into two parallel parts, namely diplomatic and security discussions and comprehensive economic discussions, indicating both parts of the strategic and economic dialogue are to receive more attention.
Second, the former High-Level Joint Dialogue on Cybercrime, a 2015 derivative of the S&ED, has been lifted to the same status as strategic security.
Third, the High-Level Consultation Mechanism on People-to-People Exchange has officially been listed as a parallel dialogue, while emphasizing its social nature.
It is understood that the two sides have fully tapped the time Xi has spent in Florida to exchange views on a variety of important issues, ranging from trade to investment; and from bilateral issues to regional and global security matters.
However, it will take time to strengthen China-US cooperation on each and every important issue. It goes without saying that China and the US remain divided on a number of crucial issues, and some new differences could emerge, such as how to deal with the use of chemical weapons in Syria.
All these differences inject great relevance into the new dialogue mechanisms between the two countries. Since Trump has accepted Xi's invitation to visit China and shown his interest in doing so as soon as possible, this gives impetus for the two sides to launch the dialogues and expedite their process so they can bear fruit at the earliest opportunity.
As Xi said, there are a thousand reasons for an ever better relationship, and reframing the top-level dialogues between the two countries shows the willingness and dedication of the two sides to further develop their relations.
Both countries have attained the necessary framework to advance bilateral ties. This is significant progress and it will help both sides stabilize and promote the bond between Beijing and Washington.
The author is professor and associate dean at the Institute of International Studies, Fudan University.