A new area of opportunities that calls for deeper reforms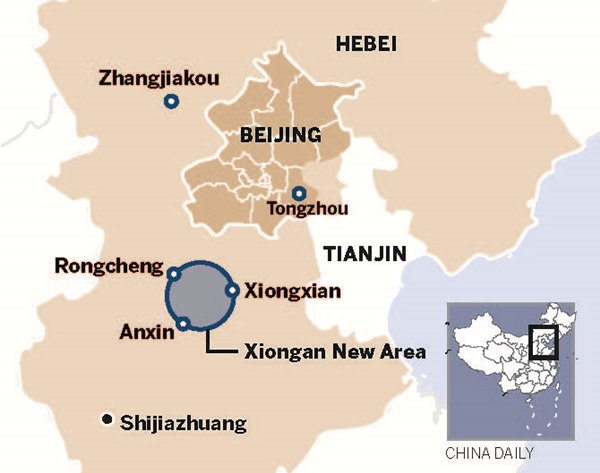 In the lexicon of Chinese authorities, only matters of extremely vital and long-lasting impacts, such as national education, qualify as being of "centennial" significance.
The idea to build a Xiongan New Area in North China's Hebei province, which the Communist Party of China Central Committee and the State Council, China's Cabinet, announced on April 1, however, is labeled as "millennial".
Although the yet-to-materialize new area is cited as another key experimental move akin to the Shenzhen Special Economic Zone in South China's Guangdong province and the Pudong New Area in Shanghai, two milestones in China's reform and opening-up, the way it is being officially positioned is symbolic of the higher hopes it carries.
The new area is expected to accommodate the "non-capital functions" of Beijing, advance coordinated development of the Beijing-Tianjin-Hebei region, create a fresh growth pole and success story to the west of the country's coastal belt, energize the landlocked, relatively less developed area, and explore the solutions to the "metropolitan malaise" afflicting cities such as Beijing.
As a natural extension and outgrowth of the Beijing-Tianjin-Hebei integration project, which President Xi Jinping has championed, the future Xiongan New Area boasts a peculiar advantage neither Shenzhen nor Pudong had. China has never been so financially capable of executing a project of such a scale. And the national leadership has never been so willing to get involved in a specific development project.
The immediate, unanimous upsurge in Xiongan-concept stocks is just the first sign of public confidence that the area may take off. But translating the ambitious blueprint into reality entails a lot more than a strong political will. The so far less-than-impressive progress in the Beijing-Tianjin-Hebei integration project illustrates the difficulty in coordinating conflicting local interests.
If there is anything in common between Shenzhen and Xiongan, it is reform. The appointment of a former mayor and Party chief of Shenzhen as the new deputy Party secretary of Hebei province raises hopes that Shenzhen's successful reform story will be repeated in the relatively conservative north.
But the reforms necessary for fulfilling the Xiongan dream could be far more challenging than those needed to turn Shenzhen from an impoverished fishing village to an economic powerhouse. Xiongan could be more about further deepening the reform than about the economy.
The progress of the Xiongan project will thus testify to China's political resolve and capability to press ahead with the needed reforms.