Not abiding by safety rules runs a risk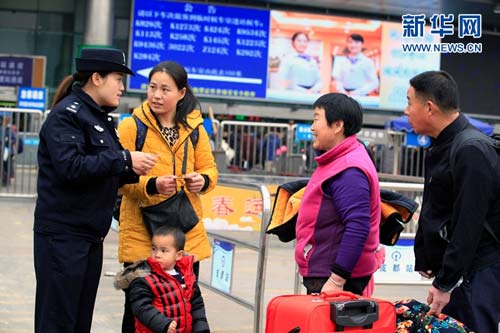 A policewoman provides information to customers in Chengdu North Station on Jan 19. [Photo/Xinhua]
The death of a man at Nanjing Railway Station on Sunday shows the heavy price that may be paid by those seeking to cut corners. Beijing Youth Daily comments:
A man jumped off a platform in Nanjing Railway Station, East China's Jiangsu province, in order to take a "shortcut" to the platform on the other side of the tracks. But he failed to get onto the other platform before a high-speed train pulled in on that line.
Although the driver slammed on the brakes the moment he saw the man crossing the tracks, the train could not stop in time and the man was trapped between the side of the train and the edge of the platform, a gap of 10 centimeters at most.
Many witnesses uploaded videos on the internet showing the man screaming while his upper body struggled painfully above the platform edge. It took about two hours to dismantle that section of platform and the man died when he was pulled out.
Some argue that the railway stations should build screen doors on the platforms, as is the case in some subway stations. But they ignore the true cause of the tragedy, which is the man's willful disregard of the rules. He obviously thought he had enough time to cross the tracks and climb up on to the platform on the other side. But he underestimated the speed of the train pulling in.
It is not uncommon for people to break rules that are in place for their safety, but doing so often ends in tragedy.