Let the market determine urbanization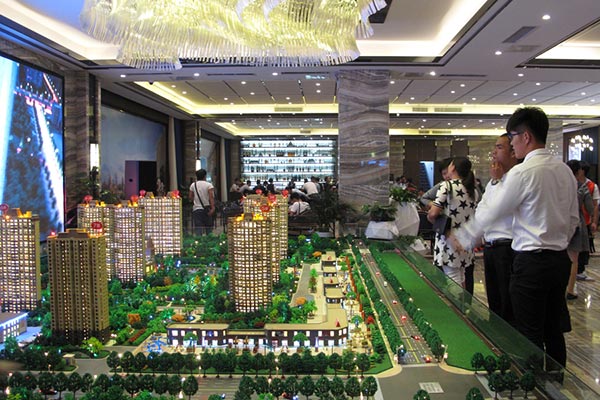 Models of residential buildings are seen at a sales center in Zhengzhou, Henan province, September 23, 2016.[Photo/VCG]
It's true that China's first-tier cities like Beijing and Shanghai have absorbed more public resources than smaller or lower-tier cities. However, generally the concentration is as a result of the market and the administrative regulations play a smaller role than we think. Therefore, I don't support the claim that governments should relocate public resources, or give higher priority to lower-tier and smaller cities to correct the trend.
It's not practical to keep the metropolitan cities, lower-tier cities and even rural areas prosperous. Instead, "people-oriented" principles should be adopted, letting the market play the key role over the development of cities via the free migration of people.
The agglomeration strategy should be considered for the future urbanization in China. China needs around 10 super city groups including the current Jingjinji (Beijing-Tianjin-Hebei) economic circle, the Yangtze River Delta and  the Pearl River Delta to accommodate around 500 to 700 million city-dwellers.
Special regulations will also take effect over the specific regions like those related to homeland security, ecological protection and uncommon administrative area like Beijing. Governments in those areas may need to work for the overall planning.
As for free trade among peasants building on the homestead, I insist that the homesteads (land previously allotted to peasants by the government to build houses) should not be transferred freely in the urban market, considering the financial and fiscal risks. It's not a fair deal since the minority can take advantage while the majority bears the cost.
Besides, it is not that common for the rich to live in the countryside while the poor inhabit the cities. We see many different urbanization situations around the world and, the most important thing is determining the best fit for China. There's a long way to go before the free transfer of peasants' building rights.
Our city development strategies place more attention on past accommodation capacity. Meanwhile, society's stability is another factor which the designers consider. Nevertheless, if we observe metropolises all over the world, the more inclusive a metropolis is, the more dynamic and bearable it will be.
The author is the chairman of the Pangoal Institution. This article is translated by Wu Zheyu.