Sharp turnaround of Russia-US relations unlikely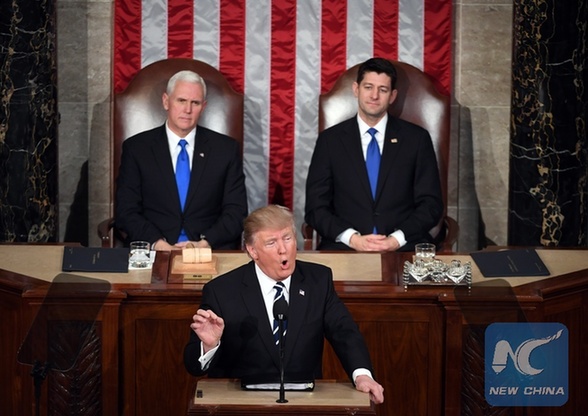 US President Donald Trump (front) addresses the joint session of Congress, as Vice President Mike Pence (L) and House Speaker Paul Ryan listen, on Capitol Hill in Washington D.C., the United States, Feb. 28, 2017. [Xinhua/Yin Bogu]
Relations between Russia and the United States have attracted great attention since Donald Trump won the US presidential election last year, as the top leaders of both countries have implied the willingness to build rapprochement.
However, two months after Trump's inauguration, bilateral ties have not improved as many expected. In view of deep-rooted conflicts and competing interests, the confrontational pattern between the two countries is unlikely to be reconciled anytime soon, experts say.
MULTIPLE FACTORS HINDERING NORMALIZATION
It is said that Trump has personally been friendly to Russia and Russian President Vladimir Putin, which may seem to bring a ray of optimism for Russia-US relations. However, with anti-Russian sentiments unprecedentedly dominant in Washington, it is not entirely up to Trump and his aides to shape the actual US foreign policy towards Russia or to break the impasse of bilateral relations between the two countries.
The Russia-US relationship has deteriorated in recent years amid the crisis in Ukraine. The United States, along with its Western allies including the European Union, has introduced several rounds of sanctions over Russia's alleged involvement in the Ukrainian conflict, which led to Russia's countermeasures against the West in turn.
For the time being, the sanctions tactic shows no sign of ending. Former US national security adviser Michael Flynn was forced to resign last month due to accusations of his secret meeting with Russian ambassador to the United States and pledging sanctions relief against Moscow after Trump took office. US Attorney General Jeff Sessions is stuck with similar allegations. So far, the Trump administration is suffering the greatest setback since his inauguration.
"I think that pressure on Trump will continue on the Russian issue. Russia is a convenient opponent for the US political establishment, and there is some inertness of the conflict in the development of relations inherited from the previous president," said Andrey Kortunov, Director General of the Russian International Affairs Council (RIAC).
Facing serious domestic opposition and criticism, the new US president's team is now considering a tone change. Trump has started to distance himself from the previous pro-Russia stance, even calling on Moscow to return Crimea to Ukraine at one point.p On the other hand, anti-US sentiments in Russia are running just as intensely. A report by the Russian pollster Levada Center shows that about 71 percent of Russian citizens surveyed hold a negative attitude towards the United States and its role in the international community, marking a record high in eight years.
Mutual hostility stems from opposite national interests.
Russia and the United States have been competing with each other in multiple areas including military, economy, foreign affairs and regional strategic positions, and conflicts have escalated over different issues like the hacking dispute, the Syrian crisis and the US THAAD deployment in South Korea. The tension between Moscow and Washington is unlikely to alleviate in the near future and therefore may continue to stand in the way of reconciliation.
Within such a context, experts warn that it is important for Russia to manage expectations, and approach opportunities realistically without creating illusions of a new large-scale strategic Russian-US partnership.
"Now it is necessary to set tasks aimed not at a complete revision, but at stabilizing relations," Kortunov added, specifying that contacts through civil society and at the level of diplomats, military and special services should be expanded.