Talent development is key for innovation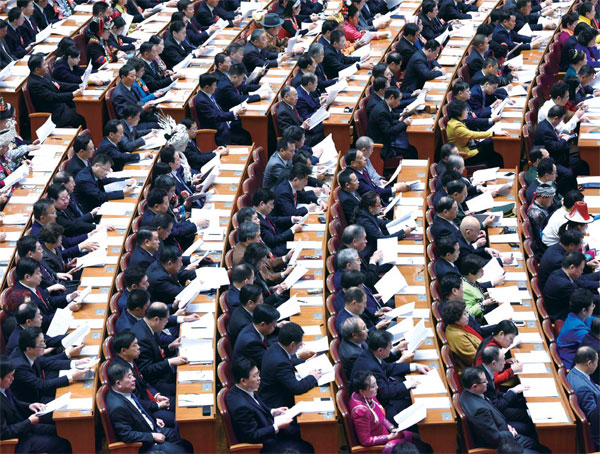 The opening meeting of the fourth session of the 12th National People's Congress is held at the Great Hall of the People in Beijing on March 5. [Chen Yehua / Xinhua]
The presentation of the Government Work Report during the two sessions in Beijing last week is always reason for discussion and reflection. As an observer and researcher of Chinese innovation for over a decade, I pay particular attention to the support and regulation regarding innovation. In recent years innovation has been a key strategic direction for reform, increase of productivity and overall economic development.
In this year's report also we see innovation as one of the most important work items on the government's list. Here I will assess both the two sessions' attention to innovation and the press release by Minister of Science & Technology Wan Gang on March 11, 2017. In general, the policy is steering towards more openness and autonomy while lacking sufficient emphasis on domestic talent development for innovation.
First, the fundamental support for 15 large-scale science & technology projects toward 2030 will push the boundaries of technology in areas such as information technology, new materials and electronic devices. Second, particular focus is on the application of artificial intelligence (AI) and the promotion of open research with crowdsourcing of ideas, open innovation initiatives and an overall open approach to developing AI applications. Third, loosening of monitoring and control of science and research funding to increase autonomy of the researchers. Fourth, focus on the internationalization of high technology from China, especially emphasizing the bridging role of the 17 national independent innovation demonstration zones. These initiatives all point towards more openness of technology development and innovation and increased autonomy.
However, an underappreciated but crucial component is talent development. While the above policy directions are certainly in favor of developing science and technology, funding and research is only one of the pillars of an innovative economy. Bringing back talent from abroad to launch innovative ventures or lead scientific discovery is great, but not enough. A venture or project cannot be run by one returnee talent, a team and organization of talents is necessary to make it happen.
Although reform in education is on the agenda, I believe that part of those reforms should specifically address the sustainability of innovation in China. China cannot and should not rely on overseas returnees alone for innovation. Educating and fostering an innovative and professional workforce domestically is crucial. And this starts at the kindergarten and primary school all the way through middle – and high school to university.
Innovation is a journey that starts with creativity and discovery and ends with commercialization via entrepreneurship. In the early phases of education, the curriculum for children should at least facilitate the development of creative skills, creative thinking and problem solving and relentlessly motivating children to develop curiosity and a sense of discovery. Practically this means including not only skills courses, such as the arts, but in particular enough time for and the right facilitation of experimentation, discovery and reflection via projects and experiential learning.
Moreover, educational concepts of Chinese teachers also need to be steered accordingly. Please note, fostering creative skills and discovery thinking does not create a workforce of artists but a talent pool of innovators, scientists, and entrepreneurs that may make changes and improvements in society.
The policy directions appear to favor science and technology driven innovation and that may not be a bad thing. If education and more fundamental talent development can be added to the mix, the future of a sustainable innovative China is bright.
Mark Greeven is an associate professor at the Innovation, Entrepreneurship and Strategy Department of Zhejiang University's School of Management.