Rising frictions over distribution of trade dividends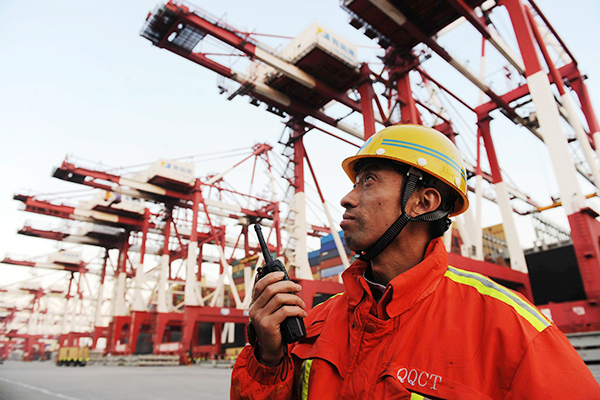 A worker looks closely as containers are unloaded in Qingdao Port, Shandong province. [Photo/China Daily]
Last year was a tough one for the global economy, and this year looks like it could be another. Market demand continues to wane, and protectionism and terrorism have made some inroads in the West where globalization and the free flow of people have traditionally been championed and revered.
In the United States, the upcoming administration led by Donald Trump may pose a challenge to the country's economic policy. And along with the United Kingdom preparing to break away and the need to accommodate the continuing influx of refugees, the European Union now has the rise of right-wing forces to worry about.
But even as Western decision-makers retreat from globalization and shift their focus to domestic issues, China is pursuing and upholding more open and inclusive cross-border trade. A participant and a major beneficiary of globalization, it is now the leading advocate of sustainable economic globalization.
On the one hand, China maintains close trade ties with the West. It is the US' second largest trading partner, the biggest source of imports and second largest export market for the EU, as well as Japan's second largest trading partner in both imports and exports.
On the other hand, frequent frictions over bilateral trade exchanges add to the fact that their disputes over the fair distribution of trade dividends have reached unusual levels. Chinese steelmakers, in particular, have been subject to an increasing number of trade remedy investigations in 2016.
This has a lot to do with the surrogate country approach, which allows other World Trade Organization members to use costs of production in a third country to calculate the value of Chinese imports. That has imposed an extra financial burden on Chinese enterprises aspiring to "go global".
In accordance with Article 15 of the accession protocol signed when China joined the WTO in 2001, the surrogate country approach expired on Dec 11, which was supposed to mark a crucial moment for Chinese exporters.
However, fearing Beijing's growing influence over global trade may bode ill for their employment and industrial recoveries, some members including the US and Japan still refuse to grant China "market economy status", they have sought to intentionally play up excessive output of steel to contain China's rise.
Apart from simultaneously launching anti-dumping and anti-subsidy investigations against Chinese enterprises on a regular basis since 2006, Washington has more than once used "market economy status" as a bargaining chip in exchange for Beijing's concessions in trade negotiations.
The EU introduced a new approach dubbed "market distortion" as an excuse for anti-dumping and anti-subsidy calculations, blurring the differences between market economies and non-market ones. Yet that still allows it to use "international" prices and cost reference in anti-dumping cases if "market distortion" is found, leaving enough room for the bloc to play the old tricks on Chinese imports.
China has launched dispute settlement procedures at the WTO requesting consultations with the US and the EU with regards to the surrogate country approach. That is not enough as more challenges lie ahead. It needs to do more to defend its lawful rights and add more weight to its role as the world's second largest economy.
The author is an associate researcher at the Chinese Academy of International Trade and Economic Cooperation at the Ministry of Commerce.