Stable internal growth is China's economic focus for 2017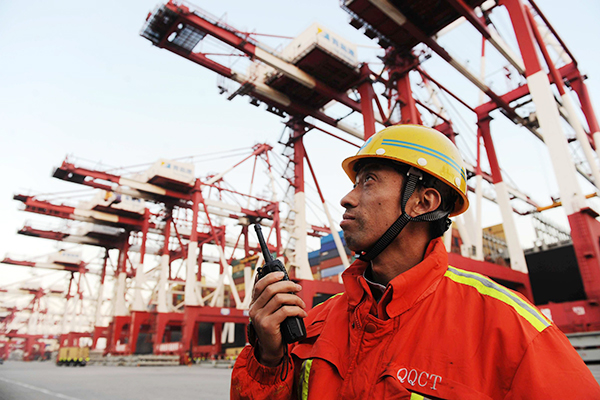 A worker looks closely as containers are unloaded in Qingdao Port, Shandong province. [Photo/China Daily]
The Chinese Communist Party Central Committee (CCPCC) economic working meeting was concluded on Dec 16, 2016, chaired by President Xi Jinping. This was the most important political-economic meeting for China to end the year with as it decided policy methods and set goals of economic development in 2017.
The medium target of China's social-economic development is to double the country's total and per capita GDP during the ten year period from 2010 to 2020.
After achieving double-digit growth for more than three decades, the Chinese economy has endured a growth decline for six consecutive years since 2010. The annualized GDP growth was only 6.7 percent in the first three quarters of 2016, down from 6.9 percent in 2015 and 10.3 percent in 2010. More importantly, the downward pressure on growth does not seem to have diminished.
In the past, investment, export and consumption were three "horses" concurrently driving the Chinese economy to expand rapidly, making China the world's second largest economy in 2010 and the largest trading nation in 2012. However, things have changed unexpectedly in the aftermath of the world financial crisis.
During the 11th Five Year Plan (FYP) period (2006-10), total investment rose more than 25 percent per year, but the investment growth rate dropped by seven percentage points to 18 percent per year in the 12th FYP period. By 2016, the first year of the 13th FYP period, the growth rate of total investment plummeted further to less than 9 percent. China's exports expanded more than 16 percent per annum during 2001-14, but contracted by 2.8 percent in 2015 and 7.7 percent in the first 10 months of 2016.
It is obvious that two "horses" driving China's past strong economic growth have lost their power, leaving domestic consumption as the only force growing at a two digit level.
The decline in exports is largely due to the worsening global economic environment spoiled by the world financial crisis. Although the US, the EU and Japan are recovering, the growth rates of 0.5 percent in Japan, 1.5 percent in the EU and 2.4 percent in the US in the most recent quarters are much lower than their pre-crisis levels, but these three major economies still account for more than half of the world's GDP.
Asia's high income and high performing economies of Singapore and South Korea have experienced even more growth pressure than China. Two key members of the BRIC economies, Russia and Brazil, have suffered from severe currency depreciation and negative growth. Among the world's 10 largest economies, only India has achieved relatively higher growth than China, but the size of the Indian economy is only one-fifth of China's.
Since China achieved the middle-high income status at less than 8,000 dollars of per capita GDP per year, the country has faced many tough challenges - rising costs of production factors, excess production capacity of traditional industries, severe environmental pollution, lack of sufficient social services for the rapidly expanding urban population and population aging.
Facing all the external and internal challenges, China still aims to maintain a relatively high level of economic growth to meet the mid- and long-term development goals, to create enough employment to improve people's livelihood, and to make sure that future development will not harm the natural environment any further. The so-called green, inclusive and innovative development is the comprehensive goal that the government wishes to achieve.
China is a large country with its own weaknesses and strengths compared to other countries. As a large country, any significant social and economic progress is no easy task, but at the same time, if it is managed well, China has far more potential and flexibility for economic growth than many other countries. This is because China has a large internal market, a large gap between the rich and the poor regions as well as between the urban and the rural sectors. By making the internal market function more efficiently and by reducing the regional and sectoral inequalities, China can take advantage of its scope and scale economies to achieve a relatively high level of economic growth despite these external and internal constraints.
In China, economic and social development is guided by the CCPCC through the FYPs and regular economic meetings. The most recent economic meeting has set next year's development targets, which are consistent with the country's long-term development objectives.
The 13th FYP is important for China to become a rich nation by the middle of this century. It is also important to meet the medium development goal for constructing an all-round xiaokang (well-off) society as well as eliminating absolute poverty by 2020. As a result, maintaining a minimum growth rate of 6.5 percent per year is an economic and political task not only for 2017 but also for the rest of the FYP period until 2020.
But this level of growth is not easy to achieve so some well-planned government interventions are required. The CCPCC economic meeting suggests that China should focus on the following key areas for policy actions.
First, the country should deepen the reform in the supply side of the economy to reduce excess production capacity such as steel and coal, to reduce the housing stock in the third and fourth-tier cities and towns, to reduce financial leverage of enterprises so that any systematic financial crisis can be avoided, to create new production or services so new consumer demands can be met sufficiently, and to reduce the production costs for enterprises so that investments and more effective production capacity can be created.
Secondly, agricultural supply-side reform is particularly reinforced as urban middle-income class consumers are now demanding higher quality and safer agricultural goods. By upgrading the agricultural sector through land and other property rights reform, China aims to create more value in agriculture, to improve the income generating capability of the peasantry, to improve people's dietary quality, and to preserve the natural environment more effectively.
Thirdly, through appropriate fiscal and monetary reforms, China still wishes to maintain a relatively high level of investment, to make sure that RMB will not fluctuate too violently as it has been doing in recent months, and to create more effective consumption so China will be able to sustain its current level of economic growth for the next year and beyond.
It is important to note that all these reforms are based on China's own internal forces irrespective of what is happening in the outside world. However, the Chinese government also emphasizes the role to be played by the Belt and Road Initiative which is fundamentally different from the mechanism for promoting international trade set out in the WTO framework. The initiative is to establish a stable and long-term relationship with all concerned countries not only for trade, but also for investment and personal exchanges. The principle is to create a new mechanism of comprehensive international cooperation for the mutual benefit of all the countries, which in turn, are to share mutual responsibility for the long-term prosperity of the world economy.
Shujie Yao is a professor of economics, Chongqing University and the University of Nottingham.
The opinions expressed here are those of the writer and don't represent views of China Daily website.