Stronger legal protection for workers can cut overwork deaths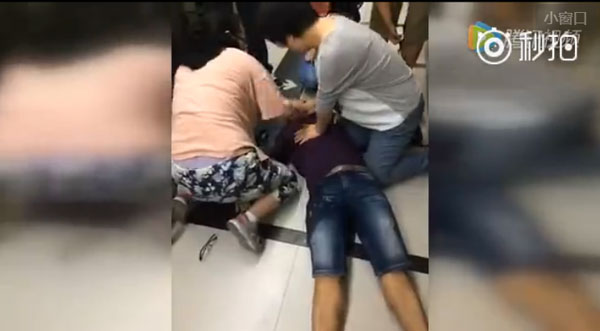 The screenshot from an online video shows passersby try to resuscitate Jin Bo, the deputy editor-in-chief of China's leading online forum Tianya, whose death on Wednesday prompted calls for increased public awareness of health risks posed by overwork.
A REPORT BY CHINA CENTRAL TELEVISION estimated that 600,000 people in China die of overwork every year, the most in the world. Beijing Youth Daily comments:
There have been numerous examples of people dying from overwork in China. A typical example is a colleague of ours, who often worked till late at night. He fell ill at the beginning of last year and died after being in a coma for a long time.
The man's family received compensation from the company, but there is no government compensation because his death is not considered an industrial injury.
The current law lists seven kinds of industrial injuries, but none of them has anything to do with death from overwork.
The law says that those struck by a sudden illness at work and who die within 48 hours should be considered as dying from an industrial injury, but in reality many people who die as a result of overwork expire more than 48 hours after falling ill. However, in terms of the law they are not considered victims of industrial injuries.
It is a sad fact that we have the highest number of deaths from overwork in the world, but our legal protection of workers lags far behind that of many other countries. That calls for us to revise the labor law and include death from overwork in the list of industrial injuries, so that there is at least some legal guarantee for compensation.
More importantly, the workers' unions need to play a bigger role. The Labor Law says that if companies need employees to work extra hours, they need to discuss this with workers via the unions. The problem is, seldom has any company truly obeyed this and seldom do we hear of any unions intervening to uphold the right of workers.
A single employee is weak facing his employer and that's why there are unions. If the unions fail to protect workers, that hurts the rights of workers. It is time we revised the law and reformed unions so they better protect employees.