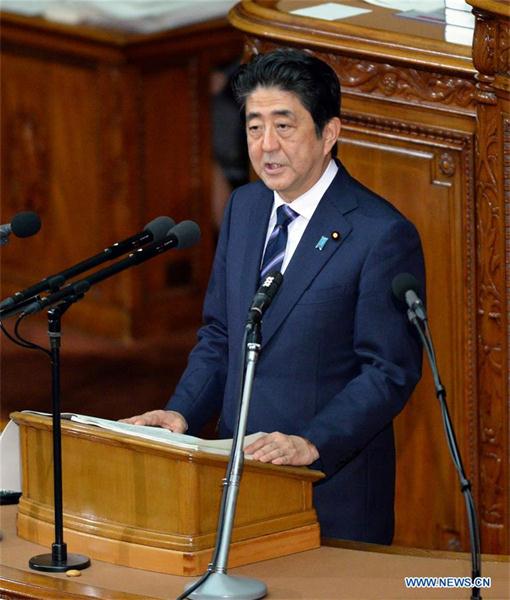 Japan's Prime Minister Shinzo Abe delivers a speech during an extraordinary parliament session in Tokyo, Japan, on Sept. 26, 2016. (Xinhua file photo/Ma Ping)
On Dec 26, Shinzo Abe will be the first Japanese prime minister to visit Pearl Harbor, on which Japan launched a sneak attack on Dec 7, 1941, dragging the United States into the war. He will not apologize for the attack during his visit, as it is intended to "console" its victims.
Japan's Prime Minister Shinzo Abe wants closure for his country's war past, and he is seeking reconciliation with the US. But by uttering no apology, Abe hopes to continue to keep the focus of attention away from Japan's wartime responsibility.
In a signed article published in Japan Times on Friday, Kuni Miyake, former Japanese diplomat stationed in Washington, Beijing, Cairo and Baghdad, called China, rather than his own country, to heed Pearl Harbor's lessons.
Miyake drew a farfetched parallel between China's operations in the South China Sea and Japan's Pearl Harbor attack.
"China is doing this-as Japan once did-in a manner at odds with the status quo and international consensus. The artificial islands it recently created in the South China Sea seem to me to be a Chinese version of the Manchurian Incident of 1931-a pretext Japan used for asserting sovereignty over disputed areas," Miyake said.
The veteran diplomat's argument betrays his arrogance, ill-intention and ignorance.
In the late 19th century Japan, along with other imperialist countries, carved up China. Their spheres of influence in China are "the status quo" Miyake mentioned.
Japan's conspiratorial action precipitated the seizure of the three Chinese provinces north of the Great Wall, collectively known as "Manchuria", in 1931. Japan launched an all-out invasion of China in 1937, which it termed the "China Incident".
Japanese wartime propaganda, as well as the present-day revisionists, presented the "Manchuria Incident" and "China Incident" as legitimate and necessary acts of "self-defense" for its "rights and interests".
For most Americans, the war in Asia started with Japan's attack on Pearl Harbor.
But as American historian, John W. Dower, has said, from an Asian perspective, the war began much earlier. The trial of Japan's accused war criminals that was convened by the Allied Powers in Tokyo in 1946 was premised on the prosecution's charge that Japanese policymakers had pursued a "common plan or conspiracy" to wage "wars of aggression" ever since 1928.
In his book Ways of Forgetting, Ways of Remembering: Japan in the Modern World, Dower said unexpectedly fierce Chinese resistance prompted then Japanese Prime Minister Konoe Fumimaro to observe as early as in 1939 that Japan was actually engaged in a "war of annihilation".
"From the rape of Nanking in the opening months of the war against China to the rape of Manila in the final stage of the Pacific War, the emperor's soldiers and sailors left a trail of unspeakable cruelty and rapacity," said Dower in another Pulitzer Prize-winning book Embracing Defeat: Japan in The Wake of World War II.
The scholar said Asian contributions to defeating Japan were displaced by an all-consuming focus on the US victory in the "Pacific War", adding that "by the same vaporization, the crimes that had been committed against Asian peoples through colonization as well as war were all the more easily put out of mind."
Abe should realize that before there is closure for Japan's war past once and for all, there are many places to be visited in Asia first. The sooner, the better.
The author is China Daily Tokyo bureau chief.
caihong@chinadaily.com.cn