Scholars: China's rise in global governance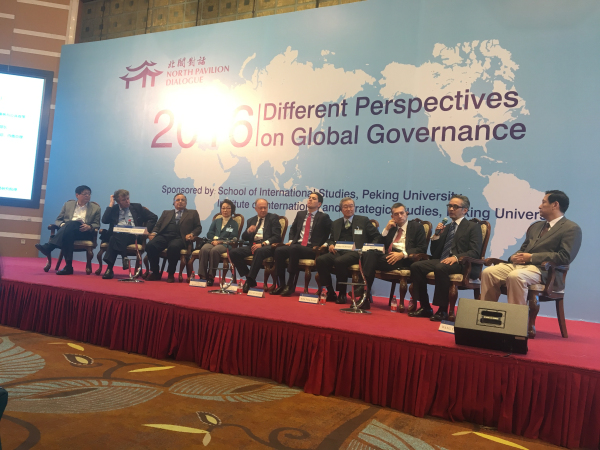 Scholars join in a discussion themed the "Different perspectives on global governance", a sub-forum of the annual North Pavilion Dialogue conference, on October 23, 2016. [Photo by Wu Zheyu/chinadaily.com.cn]
The third annual North Pavilion Dialogue conference was held in Peking University from October 21-23, to discuss the role of China in foreign affairs. The scholars attending the conference tend to reach a common sense that China, as an emerging leading power, is becoming increasingly involved in global governance, not only offering public goods to the whole world, but also contributing fruitful concepts, plans and solutions to international community, such as the concept of "human community", One Belt One Road Initiative, and also lead the founding of various financial institutes like Asian Infrastructure Investment Bank (AIIB), Silk Road Fund and New Development Banks (NDB).
Wang Jisi, the president of Peking University's Institute of International and Strategic Studies, hosted the conference and leads the dialogue via offering questions and issues for scholars at present to discuss. When asked about how to better understand China's role in the foreign affairs and how would they define globalization, Nabil Fahmy, Egypt's former minister of Foreign Affairs, warned that: "Globalization is quite complex, the failure of which would be detrimental to interests of China and clearly the rest of the world. Glad that after this meeting we achieve better understanding of China' role in the global governance, definitely China's strengthening importance in this mechanism also makes it more reasonable and fair."
David Miliband, the UK's former minister of Foreign Affairs, explained that the public should not forget the original intention of building global governance:" It's important to emphasize that the purpose of global governance is to combat the unsustainability and instability that exists when global public space is not properly managed. By that standard, the world needs to do better job of managing the commons to combat those challenges. It's quite interesting that many ones I met in China are really uncertain about whether to believe the rest of world want China to be their international partner. There still exists much doubt that needs to be demolished."
Thierry de Montbrial, president of the French Institute of International Relations (IFRI), gives his suggestion: "In order to succeed we need more from a system which is based on the balance of power and interests. The only way to do that is to better understand and work together, it won't be easy but it's not an option that we could choose or deny, it's a parameter that we need engage to achieve."
Several former politicians who once held vital positions in governments also participated in the two-day conference, including Yoriko Kawaguchi, Japan's former minister of Foreign Affairs, Marty Natategawa, a former Foreign Minister in Indonesia and Kim Sung-Hwan, Korea's former Foreign Minister. They contributed varying ideas and suggestions to the focused discussions covering issues of international organizations reform, developmental imbalance and social justice, coping with terrorism and extremism, regional security and nuclear non-proliferation.
Peking University's Institute of International and Strategic Studies holds the North Pavilion Dialogue every year to build it as a high-end platform, as a means to enhance communication and cooperation among scholars who studied on international strategy, hence help to predict the world circumstances more precisely, foster the mutual benefits and inclusive development within the framework of world politics.