China's year-end growth rate to beat expectations: OECD official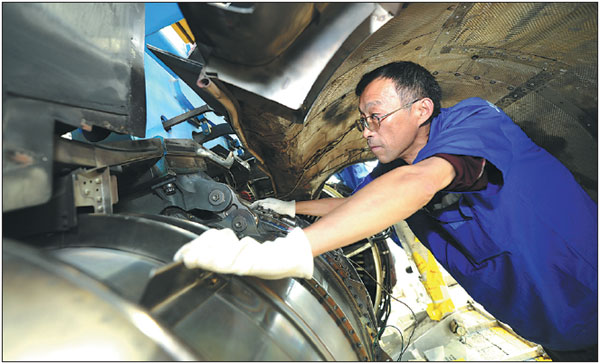 Aircraft maintenance is a key industry in the Shuangliu Southwest Airport Economic Development Zone. [Photos Provided to China Daily]
Interview with Margit Molnar, the Head of China Desk, Economics Department of OECD (Organisation for Economic Cooperation and Development).
Q1. Based on Q3 data, what's your overall view of Chinese economy in 2016?
A1. Given that we already have the data for the first three quarters of the year, the whole-year performance is basically determined. The fourth quarter data will not influence the overall rate much. So, the growth target will be met and the year-end growth rate will be beyond expectations by many forecasters.
Q2. Some claim that China is falling into a L-shaped track as the growth rate remains stable while others insist it's too early to say because of the uncertainty in the domestic and international economy. What's your opinion?
It would be a lucky incident if China fell into an L-shaped growth trajectory where the horizontal (stable) part of the L is 6.7 percent! Given fast ageing population and China's rapid catching up with the advanced economies, however, growth will inevitably moderate.
It is another question whether any kind of L-shaped trajectory is likely, as so far we have not come any close to the vertical part of the L. Growth has so far been slowing gradually and even a somewhat faster slowing growth trajectory could be feasible without much disruption. Sharp deceleration, however, should be avoided.
Q3. You may have read about the overheating in China's property market in 2016. Some first- and second-tier cities have seen a huge increase in housing prices in the past year and at the same time private investment is still at the bottom. Some conclude that China's economy could face a potential financial crisis as more money flows into the real estate industry instead of the manufacturing sector. Do you feel the same?
People in China have become used to double-digit returns on their investment, as that is what we saw over the past couple of decades. As mentioned above, however, such high growth rates were the result of several factors that are no longer present. Convergence tends to be stronger at lower levels of income, that is economies with low income have greater room to grow. Once the economy catches up with more advanced economies (or in other words its per capita income gets closer to that of other more advanced countries), its growth rate slows. That is happening in China, and that also brings down returns on investment. As people seek higher returns, they invest in the real estate market instead of the real economy (i.e. production in manufacturing or services), where returns are falling. Banks also consider lending for production purposes more risky and prefer lending for investment in asset markets, including the real estate market.
Importantly, behind housing price increases there are housing supply issues: restricted supply drives up prices. If more land were released to the market, prices would moderate and housing would be more affordable. In any case, present housing prices are well beyond affordability and therefore need to come down. If suppose, they come down abruptly, some related industries would be in trouble, but a burst of the bubble would unlikely lead to systemic risk. In China, regulations with regard to housing loans are very stringent: for instance you cannot collateralize your house to take up consumption loans, and down payment ratios are high. Also, home purchase restrictions make it impossible to buy up a large number of apartments and in some cities more so for non-residents.
Q4. How do you see the targets set in the early of 2016 for the China's supply-side reform and how do you value the results of the reform in 2016?
A major announcement was the target to cut excess capacity, however, that has seen modest progress. Available data show that until very recently the process has been slow, while central government funds were diminishing rapidly. In the past couple of months we have seen an acceleration and at this point, for instance, 80 percent of the target is said to have been met for steel. Given the urgency to address this issue as excess capacity weighs on investment decisions and takes up resources that could be used more productively elsewhere, I think more funds are needed to re-train and re-employ workers made redundant with the adjustment in those sectors suffering from excess capacity.
Q5. Do you think China's performance will affect the world and how much effect it would have on the global economy?
China's performance will surely affect the world, as notwithstanding its moderating growth, it is still the major engine of global growth.