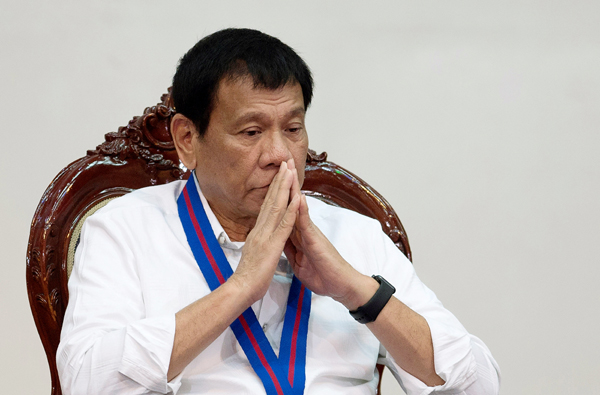 Philippine President Rodrigo Duterte attends the 115th Police Service Anniversary at the Philippine National Police (PNP) headquarters in Quezon city, metro Manila, Philippines August 17, 2016. [Photo/VCG]
The position taken by Philippine President Rodrigo Duterte on the US-Philippine alliance is giving the United States a headache. Yet what the US is experiencing now may be just the tip of the iceberg.
Over the years, Manila has played the role of frontrunner in the US' strategic maneuvering in the region. The obedience of the previous Philippine government led by Benigno Aquino III to the US made Manila the most loyal ally of Washington in the Asia-Pacific, perhaps even the world at large.
Since his inauguration in July, Duterte has made remarks which suggest he is unwilling for the Philippines to continue doing Washington's bidding. In the most recent example, he declared his country's "separation" from the US during his visit to Beijing last week. Understandably, such words raised a lot of eyebrows in the US and the rest of the West.
While US officials have asked Duterte to clarify his words, many others have had little trouble in deciphering what the Philippine leader wants to say: Manila wants to shake off the pressure and troubles brought by its alliance with Washington. This was evident when Duterte clarified what he was really saying was a separation of foreign policy after coming back to Manila from his Beijing trip.
Though the Philippines has continued to soften its remarks and sought to reassure the US that it will not break up the alliance, it is clear the Philippine government under Duterte is no longer willing to be used as a pawn in the US' strategic rebalancing to Asia, which has been widely seen as intended to contain China's rise since day one.
As an ally with blind devotion to the US, the Philippines gained little in return over the years except some second-hand US warships. Hence, a change of position was just a matter of time, and that time has ripened after Duterte took office.