China International Strategy Review 2016 released at Peking University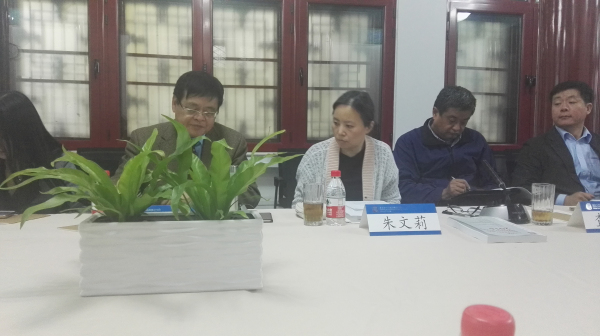 Zhu Wenli, senior research fellow of the Institute of International and Strategic Studies, Peking University, comments during the seminar. [Photo by Wu Zheyu/chinadaily.com.cn]
A book launching ceremony for this year's China International Strategy Review, organized by Peking University's Institute of International and Strategic Studies, was held in Beijing on October 12. Academics and representatives of media organizations such as the Xinhua news agency, Foreign Language Press and Global Times joined the ceremony.
The discussion on the review's topics was hosted by Gui Yongtao, assistant to the dean of the Institute of International and Strategic Studies. It covered various heated issues like "the American presidential election and China-US relations", "global governance", "the South China Sea dispute", "China's diplomacy with neighboring countries" and "Middle East problems".
"The reason why the US election this year has become so dramatic may be that neither party could come up with efficient solutions to economic disparity, class divisions of American society and political polarization brought by globalization. That situation offered advantage and space for some marginal and untraditional political powers to develop and appear on the platform," said Zhu Wenli, senior research fellow at the Institute of International and Strategic Studies.
Ni Feng, deputy director of the Chinese Academy of Social Sciences, pointed out that "This year the US's presidential election is focused more on Russia and Syria than China when it comes to foreign policy."
During the discussion about "global governance", Wang Yong, a professor from Peking University's School of International Studies, said "China should shoulder its own international obligations as part of the trend that most countries are contributing to global governance development and it should take that responsibility according to China's own abilities." Another professor, also from the School of International Studies, Zha Daojiong, confirmed this view, stating that "China should commit to the principle of "mutual benefit" when coping with global affairs."
Wu Bingbing, vice director of the Department of Arabic, School of Foreign Languages, outlined his article about relative issues of countries in the Middle Eastern areas. He said, "The lack of cooperative mechanisms, limitations on great powers' cooperation and the influence of "failed states" -- all these factors added together have led to the current situation in the Middle East."
At the end of the seminar, media representatives discussed the changes in the international situation over recent years, and the opportunities and challenges China has faced when dealing with foreign affairs.
The Institute of International and Strategic Studies publishes the China International Strategy Review annually to track and analyze vital changes in international strategic situations. As a prestigious academic journal, the review has already achieved wide-spread influence and recognition from readers around the world.