Investor distrust leads to stock market slump over new listing rule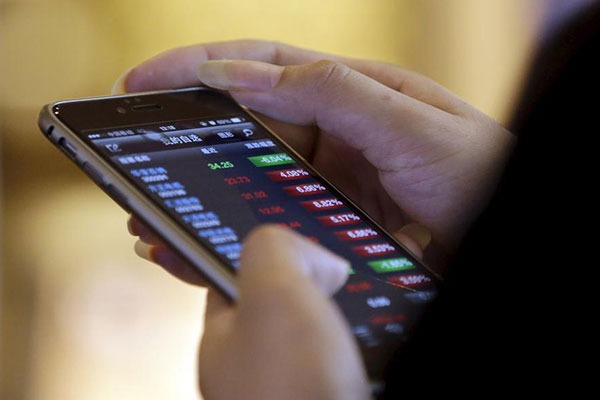 A man checks share prices on his mobile phone while waiting for his coffee at a Starbucks branch in Beijing July 16, 2015.[Photo/Agencies]
The securities regulator recently issued a policy that will shorten the listing process of companies from China's western and other less-developed regions. Although the move is aimed at facilitating the development of the less-developed regions, it has sparked a heated debate among experts and ordinary stock investors.
Some experts, such as Xie Baisan, a professor of finance at Shanghai-based Fudan University, have criticized the policy, arguing that it will open the door to the listing of substandard companies, which will be detrimental to investors' interests.
Xie seems to have misunderstood the policy. Odd as it may seem, the China Securities Regulatory Commission policy will not disrupt the normal initial public offering (IPO) rules because enterprises from the poor regions can issue shares only if they meet all the standards of stock listing.
The CSRC has said that to shorten the application process for enterprises from the less-developed regions, mainly from the western region, it will give them special treatment and approve them ahead of other applications if they meet the listing standards.
Generally, it takes two to three years for a company to go through the entire process of listing. By shortening the process for applicants from the less-developed regions, the CSRC aims to promote the development of those enterprises as well as the regions where they register their business.
The CSRC is also encouraging listed companies to merge with or acquire enterprises from less-developed regions and urging financial companies to train professionals in those areas in the art of attracting outside investment funds.
The policy was issued on Sept 9 and China's domestic A-share stock market tumbled on Sept 12, with the Shanghai Composite Index shedding 57 points, or 1.85 percent, from the previous trading day.