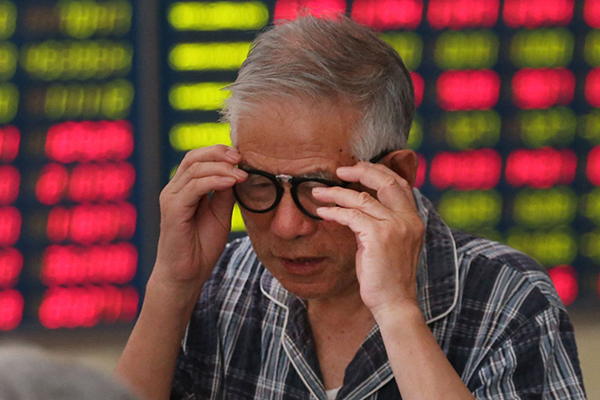 An investor checks stock prices at a securities brokerage in Nantong, Jiangsu province. [Photo/China Daily]
Initial public offerings led by banks in July raised a total of 21.1 billion yuan ($3.2 billion) in the month, which will put short-term pressure on the stock market.
There were 27 companies approved to have initial public offerings this month including two banks. The total financing reached a new high since November, according to data from the China Securities Regulatory Commission.
Bank of Guiyang planned to offer no more than 500 million shares and Jiangsu Jiangyin Rural Commericial Bank will offer no more than 209 million shares.
"The IPOs led by banks in July will affect the A-share stock market in the short term," said Hong Hao, managing director and chief strategist at BOCOM International Ltd.
The Shanghai Composite Index increased 0.08 percent on Thursday to close at 2,994.3 points and it declined as much as 1.91 percent on Wednesday. The Shenzhen Component Index dropped 4.11 percent, while the ChiNext startup index plummeted 5.45 percent on Wednesday.
"Although the financing condition in the capital market is not very good, banks are eager to go public to replenish capital," said Hong.
According to Hong, China's banking regulator is strengthening the regulation of off-balance sheet activities. Going public is a good way for Chinese banks to replenish capital as bringing back off-balance sheet items to the balance sheet costs capital funds.
Off-balance sheet usually means an asset or debt for which the company is not directly responsible, at least nominally. Financial institutions often sell wealth management products to their clients. The problem is that clients may think the bank is ultimately responsible, even though the contract says it's not.
The China Banking Regulatory Commission is considering tightening curbs on the nation's $3.6 trillion market for wealth management products, the 21st Century Business Herald reported on Wednesday.
Authorities may set a limit on how much WMPs can invest in equities and "non-standard assets" such as loans, the report said.
Mu Hua, a Guangzhou-based banking analyst at Guangfa Securities Co, said: "Having halted the approval of IPO applications of commercial banks for a long time, the regulators are now restoring normal functions of the capital market as an effective channel to raise funds."