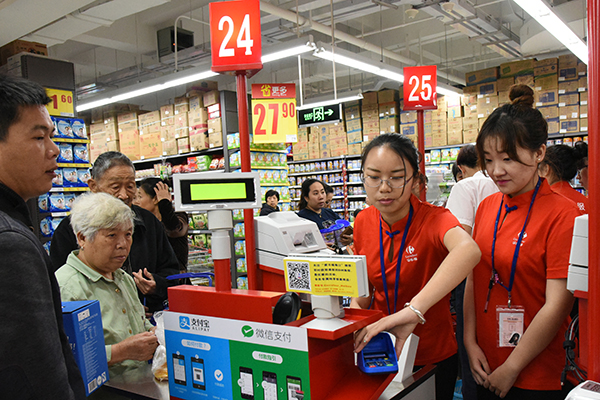 A Carrefour supermarket in Haikou, capital of Hainan province. [Photo provided to China Daily]
Carrefour SA, France's largest retailer, reported higher first-half earnings and maintained its full-year outlook as European revenue held up despite bad weather.
Recurring operating income rose 5.3 percent at constant exchange rates to 706 million euros ($781 million), the eighth straight increase, Boulogne-Billancourt-based Carrefour said on Thursday in a statement. Analysts predicted 683.5 million euros, the average of six estimates compiled by Bloomberg.
"The dynamic of profitable growth has extended into an eighth half," Chief Financial Officer Pierre-Jean Sivignon said during a conference call. "Our results are solid in a particularly atypical social, political, economic or climatic environment in several countries which we operate in."
Net sales rose 2.9 percent to 36.3 billion euros, matching the average estimate. Sales in Europe were stable, hurt by "a sluggish consumption environment", while emerging market revenue rose 10 percent.
While the company is monitoring currency fluctuations closely, particularly in Brazil, the 2.5 billion euros full-year profit expected by analysts remains a reasonable scenario, Sivignon said. The company also maintained its outlook for higher free cash flow this year and investments of between 2.5 billion euros and 2.6 billion euros.
Competition in its home market, losses in China and deteriorating economic conditions in Europe and Brazil have hurt Carrefour. The stock had lost 23 percent in the past year before Thursday.
First-half profit above expectations will improve confidence in Chief Executive Officer Georges Plassat's plan to modernize stores and add collection points for online orders in France.
Sivignon said there have been no new developments in the company's plan to conduct an initial public offering of Carrefour's shopping mall property unit Carmila. The company said in March it was waiting for the right moment to conduct an IPO of the unit.
In China, the retailer expects to hit a low in the second half of the year after revenue improved in the first half compared with 2015. "Our plans are starting to have an impact," he said.
Bloomberg