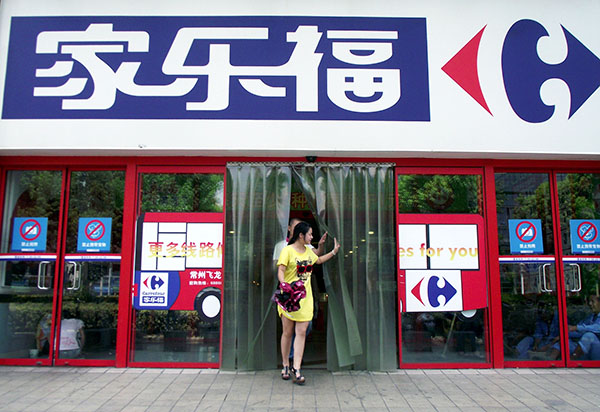 Customers go out of a Carrefour store in Nanjing city, East China's Jiangsu province, Aug 16, 2013. [Zhen Huai/China Daily]
French retail giant Carrefour SA signed a procurement agreement on Friday for 3,000 metric tons of Hami melons in the Xinjiang Uygur autonomous region to further expand its presence in western China.
In addition, the agreement will help the retailer gain an advantage in shipments of agricultural products from the nation's northwest to various markets along the Belt and Road trading routes.
The Silk Road Economic Belt and the 21st Century Maritime Silk Road initiatives were put forward by President Xi Jinping in 2013, with the purpose of rejuvenating the two ancient trading routes and further opening up the markets.
The contract was signed by Carrefour China's heads of six regional procurement centers, two local agricultural cooperatives and Xinjiang Guagua Fruit Co in Shanshan county, Turpan.
Dai Wei, vice-president of Carrefour China, said the French company plans to directly purchase up to 7,000 tons of fresh and dry fruit to distribute to other provincial markets this year, especially in East China.
"We are willing to make more direct purchases in Xinjiang," said Dai. "To promote fair trade, our purchase price is also higher than the market price and we also hope to increase local farmers' income."
Carrefour began to purchase fruits including grapes, watermelons, pears and apples from Xinjiang in 2007. It has three hyper-markets in Urumqi and one in Changji, about an hour's drive from Urumqi, the autonomous region's capital.
Most of the sourced Hami melons would be transported to the company's other inland markets on Friday. Carrefour also plans to add more stores in China to diversify its business categories over the next five years.
Eager to enhance its earning ability in the world's second-largest economy, Carrefour in March integrated its 24 city-level purchase centers into six regional centers to deepen its direct purchase strategy to cut unnecessary procedures and extra costs during the third-party involvement, as well as to ensure the quality of agricultural products.
He Yiming, director-general of Xinjiang's regional commerce department, said China is keen to open more market channels for West China's pillar industries such as agriculture, machinery manufacturing and logistics through the twin trading initiatives.
By building a modern food supply chain, the government expects to provide new growth drivers for Xinjiang's economy and create favorable opportunities for export of products from Xinjiang.
"Food consumption is normally a clear indicator of an economy and the size of its population. In China, fruit consumption is rising and people are eating different types of fruit. Products including fresh and dry fruits, canned fruits, juices and fruit yogurt have become more sophisticated and consumers look more for healthy and convenient options," said He.
Contact the writers at zhongnan@chinadaily.com.cn and wangzhuoqiong@chinadaily.com.cn