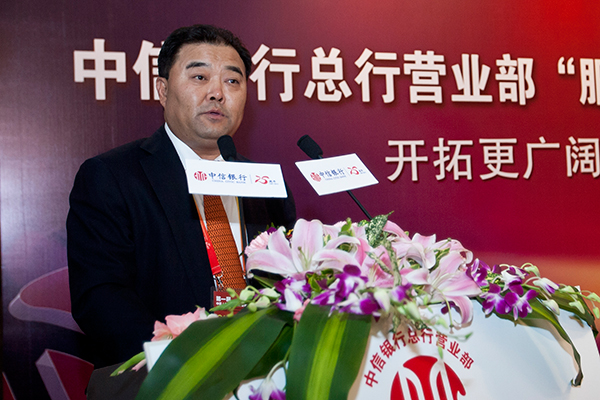 Sun Deshun, president of China CITIC Bank Co Ltd. [Photo/VCG]
Internet banking union formed in the wake of the rapid growth of web-based financial services
Twelve national commercial banks formed an internet banking union on Thursday, announcing that they will waive service fees for their clients to make interbank money transfers among member banks via internet and mobile applications.
Clients who have opened accounts at a counter of a member bank will find it convenient to open electronic accounts at the other 11 banks, to buy wealth management products and pay for their bills, based on mutual recognition of accounts and account information shared among the banks.
"The Internet Banking Union will serve as an open platform promoting services and product innovation through a wide cooperation among commercial banks, insurance companies, trust companies and internet companies, in order to achieve win-win outcomes for the whole industry," said Sun Deshun, president of China CITIC Bank Co Ltd, joint chair of the union.
The union will also push forward transitions in the banks' operation and profit models, he added.
Member banks will enjoy the interconnection of their systems and mutual recognition of accounts.
"The 12 banks agreed to open their account information queries and verifications to one another," said Fan Shuangwen, deputy director of the payment and settlement department of the People's Bank of China, the central bank.
"It will effectively prevent the risks of opening accounts online and provide a foundation for them to build a platform for business communication and cooperation," he said.
Fan said he hoped the union will gradually open up account information queries and verifications to a wider range of financial institutions.
The alliance of national joint-equity commercial banks was formed against the backdrop of a rapid growth of internet-based financial services such as Alipay, the online and mobile payment arm of China's e-commerce giant Alibaba Group Holding Ltd.
As of June 30, 2015, the number of Alipay users registered in their real name exceeded 400 million. More than 200,000 offline merchants and more than 500,000 taxis in China accept payments via Alipay.
Its overseas network has been expanded to nearly 2,000 merchants in more than 30 countries and regions, according to the information posted on its website.