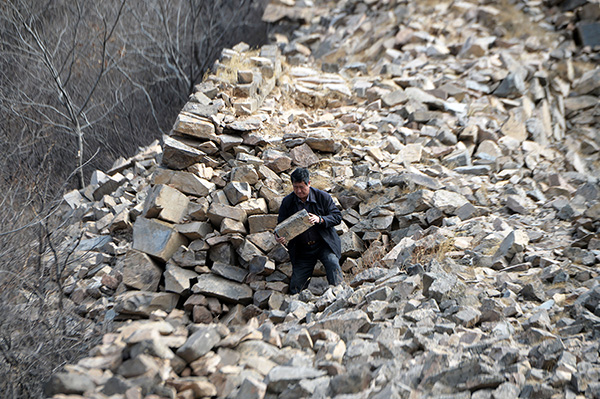 Xu Guohua visits a collapsed section of the Great Wall to collect unbroken bricks, which he will save to use in later maintenance of the Wall, in Qinhuangdao, North China's Hebei province, on March 22, 2016. [Photo/VCG]
A SECTION OF THE GREAT WALL in the rural area of Suizhong county, Northeast China's Liaoning province, has always been protected as a precious heritage. Yet several recent photographs show it is now covered with cement and almost destroyed. Local authorities claim they have "repaired" it. Beijing News says their response is irresponsible:
It seems the local authorities don't understand the difference between "repair" and "damage". Repairing means restoring to sound condition after damage. Ironically, those who covered that part of the Great Wall with cement in the name of "repair" have actually damaged it.
The Great Wall is not only symbolic of China, but also an important historical structure for research. Some news reports say the damaged section was built in 1381, which in itself is a historical record. Every brick in the Great Wall is history, and the "repair" has destroyed them by covering them with cement.
Local authorities say their repair work is legal. But a special regulation, called The Great Wall Protection Regulation, states the wall should be repaired on the principle of "not changing its original shape and look". In other words, the Great Wall should be maintained in its original form even if it needs to be repaired. This means those people responsible for covering the Great Wall with cement have broken the law and damaged the structure. So they should be held accountable.
Other reports say similar kind of damage has been caused to sections of the Great Wall in Beijing and elsewhere.
Yet seldom do we hear that those responsible have been penalized. That such incidents recur has much to do with the lack of punitive measures. It is time the judiciary took action against such "vandals".