Old world economy gets new clearance instrument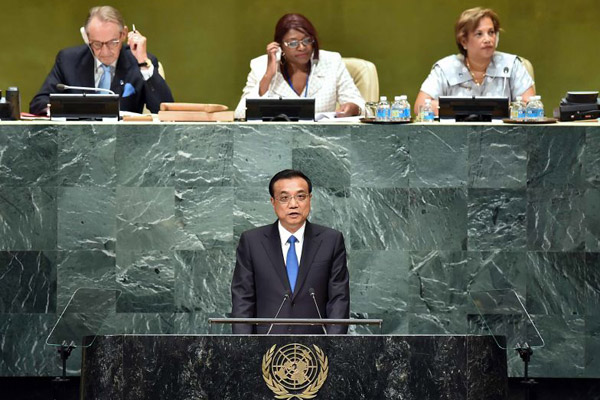 Chinese premier Li Keqiang attends the general debate of the 71st session of the UN General Assembly in New York, Sept 21, 2016. [Photo provided to chinadaily.com.cn]
Instilling confidence in the international community about China is a tall order amid gloomy, if not nerve-racking, reports about the global economy and repeated rumors about the country's imminent economic collapse. But Premier Li Keqiang did exactly that on the sidelines of the United Nations General Assembly annual meeting in New York. He told his audience what they needed to know-the till now successful dogged pursuit of the country's transition toward sustainable development.
His endeavor comes against the backdrop of the tremendous economic power China has gained in the past decade and the greater role it has started playing on the world stage, which can be seen in the International Monetary Fund's recent decision to include the renminbi in its Special Drawing Rights currency basket, making it an international negotiable instrument.
More significantly, Li also announced the establishment of the first international clearing service for the renminbi in New York. Bank of China's branch in the Big Apple was authorized on Tuesday to provide renminbi clearing services in the United States.
The Chinese currency's fast but measured progress in the world is not based on just ambition. It is backed by the fact that in the six difficult years following the global financial crisis, China managed to maintain an annual GDP growth rate of more than 6.5 percent. That China registered 21 trillion yuan ($3.15 trillion) in retail sales from January to August, up 10.3 percent year-on-year, and 15.4 trillion yuan in foreign trade are also measures of its economic power.
Plus, it received close to 550 billion yuan in foreign direct investment that helped to establish more than 18,000 new foreign investment companies. Meantime, a total of 775 billion yuan in investment flowed out of the country to overseas destinations.
China is one of the few major developing economies in the world that has not substantially devalued its currency in a bid to temporarily alleviate its domestic economic woes. Besides, substantial devaluation of the currency is self-defeating for an economy like China's given its size and complexity, as Li reiterated during his visit to the US. This is in stark contrast to the old way of thinking of some of his audience.
The renminbi's global demand will be small in the beginning, and although managing its overseas clearing services will pose new challenges, China will soon learn the ropes, and create more trading and investment opportunities for overseas renminbi holders while continuing to fuel global economic growth.