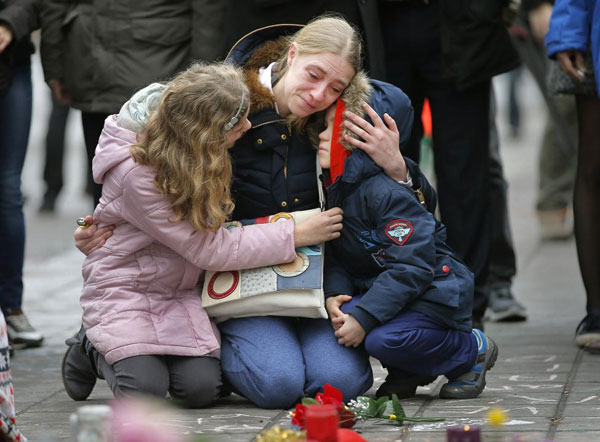 A woman consoles her children at a street memorial following the bomb attacks in Brussels, Belgium, March 23, 2016. [Photo/Agencies]
The deadly terrorist attacks on Brussels airport and metro on March 22 are still taking a toll on Belgium's economy. Police and emergency forces are still stationed in cities, especially in Brussels and the major port city of Antwerp. In fact, Belgium has deployed nearly all of its security forces to patrol the streets and kept the risk alert at the third level, just one step below maximum, making security procedures, including bag checks, mandatory even at book fairs and concerts in the parks.
Tourists, especially those from outside Europe, still hesitate to visit Belgium. The August data show a year-on-year drop of 6.7 percent in the number of passengers flying into and out of Brussels airport, partly because Asian and American tourists are avoiding Belgium. In August, the airport received just more than 2.3 million passengers, a year-on-year decrease of 4.6 percent. The number of international tourists visiting Brugge, a picturesque destination, declined by 20 percent this summer. The year-on-year decrease in the number of people visiting Brussels is even higher.
The sharp drop in the number of foreign visitors has prompted the Belgian authorities to attract more visitors from abroad, especially China. For example, the French-speaking Belgian region of Wallonia has introduced a new tourism certification system for Chinese visitors, under which hotels avoid assigning rooms on the fourth floor to Chinese tourists, because 4, similar to 13 in Western culture, is not a good number for many people in China. Providing enough hot water and green vegetables for Chinese visitors is also part of the new package.
Belgium has benefited from China's global investment drive. For instance, a Chinese enterprise has reportedly acquired VLM Airlines. And Chinese investors are still looking to invest in Belgium's brewing, trading, logistics and other sectors.
Belgium's condition is similar to that of France after the three terrorist attacks since 2015. But despite deterring Chinese tourists, the attacks have not prevented businessmen from seeking lucrative opportunities.
Belgian Prime Minister Charles Michel should keep this in mind as he is set to visit China next month to mark the 45th anniversary of China-Belgium diplomatic relations. He was scheduled to visit in March but the terrorist attacks that month forced him to cancel his trip.
If he visits the Volvo factory in Ghent, now owned by Chinese automaker Geely, Michel might better understand the benefits of the takeover. Geely acquired Swedish carmaker Volvo several years ago and thus saved the jobs of about 5,000 Belgian workers in the factory. Now the company is earning profits by exporting its cars to China. But the workers in an auto factory next to the Volvo plant have lost their jobs because the global financial crisis forced its closure.
There will be many such mutual benefits if the Michel administration follows the example set by the Wallonia region, that is, instead of sticking to one-policy-fits-all investment formula, promoting the extra benefits Belgium can offer to attract more Chinese investors. For example, Belgium can set up an international school that offers a Chinese curriculum, for it has many schools teaching English, French, German, Dutch and even Japanese, but not a single one to teach Chinese.
Decades ago, when government sat various levels in China decide to attract foreign investors, they built schools for the kids of different foreign nationals. It's time the countries that now want to attract Chinese investors paid back the compliment. If Belgium does so, more Chinese investors are likely to consider the country as an investment destination. And the Chinese government or investors in the education sector are likely to join in.
Belgium still faces difficult times, as does the rest of Europe. But by thinking outside the box, especially in reference to China, it can tide over its difficulties.
The author is deputy chief of China Daily European Bureau. fujing@chinadaily.com.cn