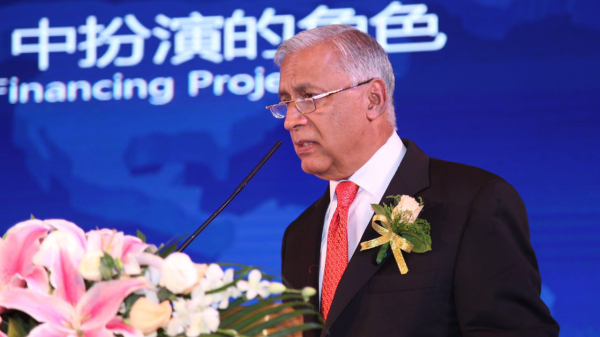 Shaukat Aziz speaks on Launching of Dagong Global Infrastructure Credit Rating Methodology & Infrastructure Investment and Financing Forum.[Photo provided to chinadaily.com.cn]
Shaukat Aziz, former prime minister of Pakistan and an expert on global finance, shared his views with China Daily's Wang Yiqing on the future of the Chinese economy and Sino-Pakistani cooperation in the Belt and Road Initiative. Following are excerpts from the interview:
What's your opinion on the Chinese economy's future?
First, we have to analyze an economy over a certain period. No economy can grow at one rate forever. The Chinese economy, as I see it, is experiencing a period of consolidation. I'm not concerned about the growth rate coming down, because the Chinese economy's basis is much bigger.
I think China's reform agenda is good and needs to continue, because structural reform is always a major driver of growth. China has carried out a lot of successful reforms and clearly more will be needed this time.
Second, since China is part of the global economy, it cannot be immune to the challenges faced by other parts of the world. You must recognize that China is a very big global exporter. So, as the global economy slows it will affect China, because no country can live in isolation.
Look at the other parts of the global economy. The rate of growth is much slower. Compared with those, China still has a very high growth rate.
I think consolidation and readdressing the priorities will be parts of the growth process. But more importantly, the direction of China's economic reform is very good. That's what we should focus on. So I'm optimistic about China's economy.
What do you think of China's current economic transition to a "new normal"? What are China's biggest challenges in this transition period?
One of the challenges is the economic reform of public-private partnership. The public sector is a major driver of growth in China, but now the private sector is coming up, too. That is one of the biggest reforms of China. And gradually the private sector will further expand and improve.
However, improving the private sector's role doesn't mean the government's role of regulator has to change. The combination of the two is very positive.
Public sector enterprises will undergo reform, including improving their efficiency and system. That's a continuous process. You must also keep investing in and improving the private sector and make the enterprises follow international standards, which is happening in China.
I see a continuous need for reform, especially reform of public sector enterprises. More private sector businesses are expanding, which will obviously be value-added to the economy.
How do you evaluate the Belt and Road Initiative advanced by China, as well as China-Pakistan cooperation in the initiative?
Pakistan and China have stood by each other for decades. Sino-Pakistani friendship has been consistent because it is based on the principles of peaceful co-existence, helping each other and creating win-win conditions for both countries.
Last year, President Xi Jinping visited Pakistan and announced a $46 billion investment project in Pakistan as part of the Belt and Road Initiative. It was a historic development and a game changer.
Connectivity, linkage and interdependence between China and Pakistan will all increase through the initiative. And I think the initiative will also increase trade and investment between the two countries. As I said, it's a game changer that will create an environment for Pakistan's growth.
Nobody should feel threatened by the initiative. Those who do so should reconsider their views, because it is not against anybody. That's the beauty of it. The initiative is in accordance with the Sino-Pakistani relationship: mutual respect, mutual benefit and close friendship.
The world should be happy that the two countries are working together to reduce poverty and create more business and growth, which is good for all. I think there's a lack of understanding about the initiative among people in other countries who are not involved in it. Perhaps we should better explain the initiative to show everybody that it is not against anybody.