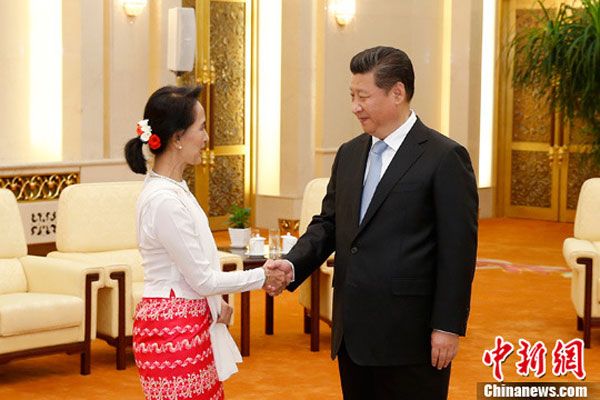 Chinese President Xi Jinping (R) meets with a delegation from Myanmar's National League for Democracy (NLD), headed by NLD chair Aung San Suu Kyi, at the Great Hall of the People in Beijing, China, June 11, 2015. [Photo/Xinhua]
Aung San Suu Kyi, Myanmar's state counselor, will pay a five day visit to China from Wednesday, during which she will travel to Beijing and other Chinese cities, and exchange views on bilateral relations with Chinese leaders.
This is her second trip to China, the first being in June 2015, when she met with Chinese President Xi Jinping as chairwoman of Myanmar's National League for Democracy, then the main opposition party. The NLD won absolute majority in both houses of parliament in Myanmar's general election in November.
Suu Kyi's visit to China, the first by a Myanmar leader since the new government took office in late March, is expected to inject fresh momentum into China-Myanmar ties.
China is the most important source of foreign investment for Myanmar. By the end of July, the agreed investment in Myanmar by China had reached $25.4 billion, accounting for nearly 40 percent of the total foreign investment in that country. China is the largest trading partner of Myanmar and its investment there is more than in any other Southeast Asian country.
Of course, Beijing has benefited a lot from its comprehensive strategic partnership with Naypyidaw and needs it to facilitate its regional cooperative proposals, such as the Bangladesh-China-Myanmar-India economic corridor and the Belt and Road Initiative. For that to happen and also to deepen China-Myanmar cooperation, however, official endorsement and extra caution are needed. And there is enough room for cooperation in areas such as Myanmar's infrastructure.
As a global leader in building transport networks, China is willing to help improve Myanmar's infrastructure, which that country needs for its economic development, through bilateral as well as multilateral investments.
By building more roads, bridges and ports, Myanmar will not only improve regional connectivity but also make the most of its geographical location as a country that connects the Pacific Ocean and the Indian Ocean as well as Southeast Asia and South Asia.
According to an Asian Development Bank report in March, Myanmar, a perpetually deficit state, will need about $60 billion to improve its transportation system by 2030. Because of the "primitive" transportation network in some of Myanmar's regions, the cost of delivering local agricultural products remain high. Better transportation infrastructure will improve the livelihoods of Myanmar's farmers and boost the trade with China's southwest provinces like Yunnan.
Moreover, China and Myanmar should tap into the potential in hydro-power cooperation without creating unnecessary misunderstandings. Myanmar's officials have decided to deal with the severe electricity shortage in the country, where half of the population still faces constant power failures. Developing hydro-power is apparently the most viable and economic option, because it causes the least harm to the environment.
As one of prospective investors, China has no intention of importing electricity from Myanmar, because it already has power oversupply, meaning its focus is to help Myanmar produce more hydro-power. But China should make sure local residents approve of the location and size of the hydroelectric stations, and the environmental assessments pass public scrutiny.
To let more Myanmar people enjoy the dividends of the bilateral partnership, China also needs to make more investments in sectors welcomed by local governments. Agriculture, textile, and tourism industries, for example, are better alternatives, because investing in them could create jobs for the local people and shift China's excessive capacity to a market that needs it.
Moreover, both countries should encourage people-to-people exchanges, from the grassroots to the academic level. To begin with, Chinese universities could take in more students and offer professional training to workers from Myanmar.
The author is an associate researcher in South Asia and Southeast Asia studies at China Institutes of Contemporary International Relations.