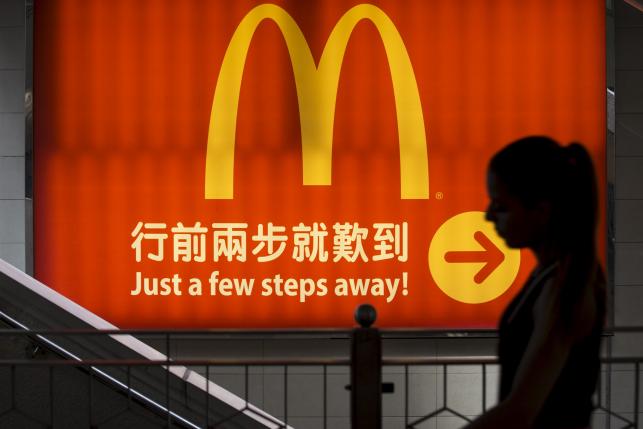 A woman walks past a McDonald's outlet in Hong Kong in July 25, 2014. [Photo/Agencies]
For many Chinese consumers, McDonald's Corp's latest policy on the use of antibiotics in its food products is an example of double standard in food safety.
The multinational fast food chain announced last week that in the United States it had switched to using chickens raised without antibiotics, fulfilling a pledge it made in March 2015, many months ahead of schedule.
Yet it has refrained from promising that it would do the same in its more than 2,000 restaurants in China, its third-largest market after the US and Japan, and one of the fastest-growing in the world.
This has sparked anger in China, with many people pointing accusing fingers at the fast food giant for adopting what they perceive to be a discriminative policy.
While the bitterness they feel is understandable, legally McDonald's is doing nothing wrong.
There is no law in China that bans the use of antibiotics in food ingredients. McDonald's, as it claims, is operating in China in accordance with the relevant laws and regulations.
And people should realize that China is the largest user of antibiotics, both in its medical system and food industry.
Research by a Guangzhou unit of the Chinese Academy of Sciences reveals that the country used 162,000 tons of antibiotics in 2013, half the amount used globally.
And of the antibiotics used in China, more than half were given to animals, with the rest used by humans.
Scientists estimate that the per capita intake of antibiotics in China is nearly 130 grams a year, or 10 times that in the US.
The overuse of antibiotics, including antimicrobial use in food animals, has prompted the World Health Organization to warn that the world is moving toward an era in which many infections will no longer be treatable with antibiotics.
But as McDonald's notes in its statement, a few sensible changes can maintain their important benefits.
Of course, McDonald's could have done a better PR job by not seeming to limit its decision to the US and indicating that it would also look to reduce the use of antibiotics in its supply in China.
But for it to do that, it is necessary for China to clean up its own backyard by drafting food safety laws that can better regulate and minimize antibiotic use to safeguard the health of its citizens.
After all, the right to healthy food is not bestowed, but earned.