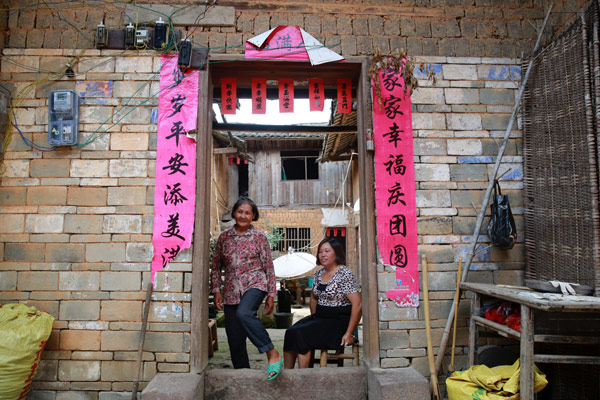 Two local women stand outside their home. [Photo by Feng Yongbin/China Daily]
The achievement of the Chinese government in combating poverty over the past decades has been remarkable, nay ambitious. But its 13th Five-Year Plan (2016-20) is even more ambitious because it aims to lift another 70 million people out of poverty by 2020.
From 1981 to 2011, China lifted about 753 million people out of poverty — 439 million of them rose above the poverty line between 1990 and 2011.
But the government's goal of lifting about 70 million people out of poverty in four years is indeed ambitious. In the severely poverty-stricken provinces and regions, poverty alleviation has been prioritized over all other issues, and all government departments are providing essential support to fight poverty.
Apart from applying the feasible solutions to eradicate poverty such as introducing e-commerce measures, the poor areas are also promoting their geographical or demographic advantages in attracting tourists or boosting their agricultural production. Plans to relocate people are being implemented, and rural residents in less livable areas have been settled in relatively secure places. Documents have been filed and database established, and the relocated people are now registered residents of these areas.
Besides, poverty alleviation is now part of the criteria to determine the performance of local officials in less developed areas, and university students are being encouraged to serve in grassroots governments to improve public services, in order to help those areas develop faster.
But while the new plans are being implemented, rural governance has not shown any obvious difference till now. The less developed regions are still struggling to eradicate poverty, not because they lack financial or human resources but because their governance has not shown any qualitative change.
The major concern of the poverty alleviation program is that some local areas could fall into the poverty trap again. Since a sustainable method of reducing poverty remains elusive, how to use better and innovative ideas to alleviate poverty and keep poverty levels as low as possible has become more important than ever.
The author is a reporter with China Daily