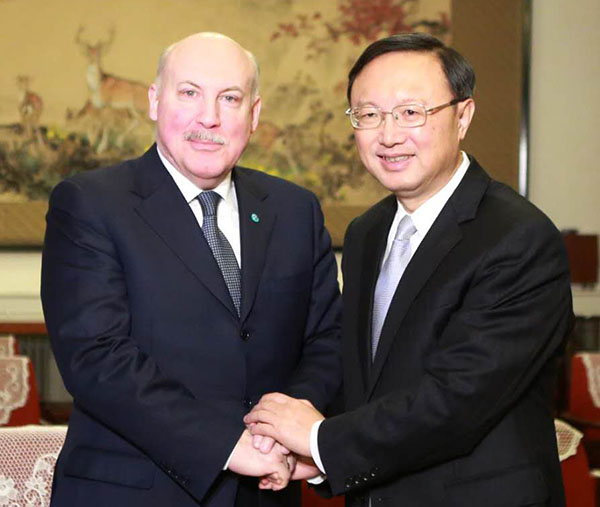 State Councilor Yang Jiechi meets with Shanghai Cooperation Organization (SCO) Secretary-General Dmitry Fedorovich Mezentsev in Beijing on Dec 29. [Photo by Feng Yongbin/CHINA DAILY]
China's Belt and Road Initiative has prompted broad interest not only at the official level but also among analysts and experts. The central question that many are discussing about this initiative is: "What does it mean in economic, cultural and especially geopolitical terms?" Indeed, is it just a declaration of intent or an actual, concrete and practical project?
The Shanghai Cooperation Organization summit on June 23 and 24 will probably be an important opportunity for Chinese President Xi Jinping to re-articulate the Belt and Road Initiative and give it a more realistic shape, especially because the SCO summit will take place in the context of increasing geopolitical contradictions on the one hand and the active reformatting and accommodation of Central Asian and Eurasian spaces on the other.
The Belt and Road Initiative is a long-term and ambitious strategy so is the Russian strategy of creating the Eurasian Economic Union. And the two projects are supposed to be conjugated. Those who analyze Russian and Chinese thrust for pivotal role in Central Asia often consider if Russia can provide security arrangements for the region and China can support economic development. Such a perception, however, looks quite simplistic and superficial.
According to widespread and stereotypical perceptions Russia-led arrangements imply Eurasian Economic Union and Collective Security Treaty Organization and China-led arrangements imply SCO and the Belt and Road Initiative. That's why the statements about the possibility of conjugation of these two sets of arrangements look, so far, vague.
The SCO's agenda, hitherto primarily focused on Central Asia, will obviously become broader with the inclusion of India and Pakistan. This would complicate the situation of the SCO's existing Central Asian members and could become an excessive burden both for these states and the organization itself.
Uzbekistan's president has said the SCO is likely to be joined by two nuclear powers that are in permanent conflict. Besides, not all SCO conventions and agreements adopted within the organization are implemented in full, especially in the realm of confidence measures and military activity in the border areas. New entrants to the SCO are even more sensitive to such issues.