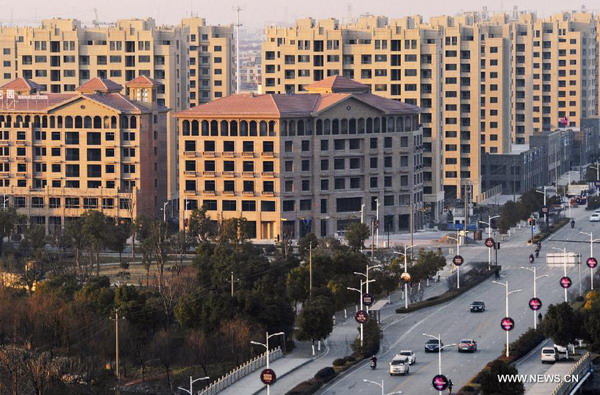 Photo taken on Jan 1, 2015 shows an apartment project in Huzhou, East China's Zhejiang province. [Photo/Xinhua]
LAND OWNED BY THE STATE-OWNED Guangzhou iron and Steel Enterprises Group in South China's Guangdong province, which has been sold to local property developers for more than 27.7 billion yuan ($4.2 billion), reportedly still contains heavy metal pollutants in the soil. Beijing News commented on Saturday:
Despite the rehabilitation of the "tainted" land of Guangzhou Iron and Steel Enterprises Group, which is only expected to be completed in July, local real estate enterprises had already started construction on it last year, claiming that they have all the required paperwork including an environmental impact assessment.
The truth is, even a legitimate environmental impact assessment does not guarantee that the land, which is still recovering from heavy metal pollution, is free of health risks. Whether the land will be decontaminated remains unknown, because it is fairly difficult to get rid of all embedded heavy metals, which have polluted the ground for years.
That, to a point, explains why some local governments and property developers tend not to carry out the full rehabilitation of the land as required. In some cases, environmental officials have been discouraged from investigating the pollution of land to be used for the construction of affordable housing, simply because it would increase the costs.
As a result, heavily polluted land is often exempt from a full environmental impact assessment and swiftly made available for building urban residences.
Of course, the local governments, the environmental departments, and real estate agents, are all to blame for this state of affairs and should all be held accountable. In addition, the lack of land rehabilitation standards and inefficient information disclosure also contribute to the disregard of pollution in land earmarked for development.
That the rehabilitation of polluted land in developed economies is trusted by most citizens, has a lot to do with the fact that it is strictly carried out according to tough regulations. These cover not only the soil but also the underground water, which is rarely the case in China.
The central government should introduce comprehensive regulations to make sure all polluted land is rehabilitated properly.