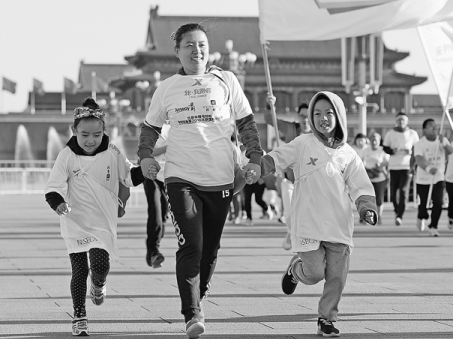 A mother and her two children join an international running festival in Beijing. The event attracted more than 20,000 participants.[Wei Xiaohao/China Daily]
How much would you like to pay to cultivate a healthy habit that will keep you fit?
My personal trainer at the gym charged me 5,500 yuan ($850) for a 30-hour bodybuilding course, and when I tried to bargain, he cut me short, "Would you bargain with your doctors over medical costs if you fall ill?"
Though somewhat rude, he made a point: Health is invaluable, and it cannot be measured by money.
More and more people buy into the idea with their bulging wallets and rising health awareness, and a momentum is building up in the development of keep-fit business, creating wealth opportunities for those who see the potential.
Spending in health-related sectors in the United States reportedly makes up 15 percent of the country's gross domestic product, while the figure in China is only about 5 percent. That may partly explain why Alibaba Health, an offshoot of e-commerce giant Alibaba Group Holding Ltd, recently established a 1 billion yuan joint venture to make foray into internet health insurance in China.
Not just big companies are tapping the huge potential for health-related sectors in China. Some individuals with nothing but innovative ideas have also jumped on the bandwagon.
One successful example is an amateur runner with an online nickname Tiger, who came to Beijing several years ago after quitting his job in his hometown. He might not know Peter Lynch, but he definitely grasped the essence of US legendary investor's investment principle, "Invest in what you know".
It is running that he knows best.
I happened to learn of his story from an interview of him on China Central Television. He operates a program "100 people running for 100 days" through Tencent Holdings Ltd's social networking app WeChat, to help people build a running habit within 100 days, and of course, for himself to make money.