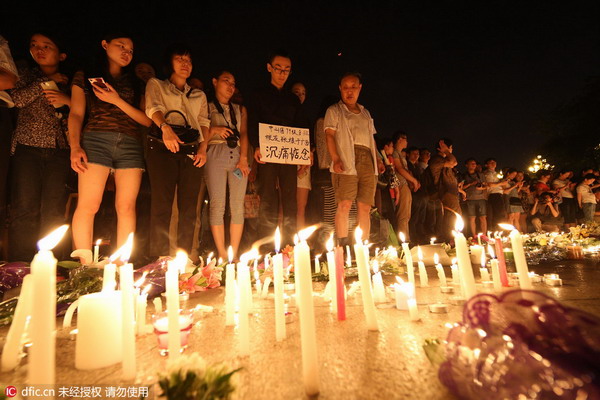 Local residents gathered in Guangzhou's Hero Square to mourn doctor Chen Zhongwei on Saturday and express their anger at such violence. [Photo/IC]
The killing of a dentist by his patient on Friday in Guangzhou, South China, is intolerable, and many local residents gathered in the city's Hero Square to mourn him on Saturday and express their anger at such violence.
Worryingly, this extreme case is just the latest in an increasing number of disputes between medical staff and their patients, in which doctors or nurses have been verbally or physically abused by patients. In some instances when a patient has died, doctors have been coerced to kneel and mourn the patient by relatives and friends of the deceased.
Strict enforcement of the law is urgently needed to protect medical workers from being abused by their patients and patients' relatives in any form. A desirable mechanism also needs to be put in place to strictly assess how much responsibility a doctor has to bear in a dispute.
Thanks to the lack of a safe working environment and lack of understanding from patients, the number of students applying to enroll in medical schools is declining and the proportion of top-notch ones applying for medical majors has dropped sharply in recent years.
It is common sense that doctors are not magicians and cannot cure all diseases, and there is no operation that bears no risk. Those, who turn a blind eye to this reality and maltreat medical workers when they fail to get what they expect from doctors, are actually harming this country's healthcare environment.
Of course, that some hospitals charge patients for overmedication and unnecessary treatment, such as the deliberate prescription of expensive drugs or excessive medical checks, only for the sake of their profits has also added to the mistrust between medical workers and patients. This should be addressed by medical reform.
However, a crackdown should show no leniency toward those who physically abuse medical workers or seek to blackmail hospitals by disrupting the order in hospitals.