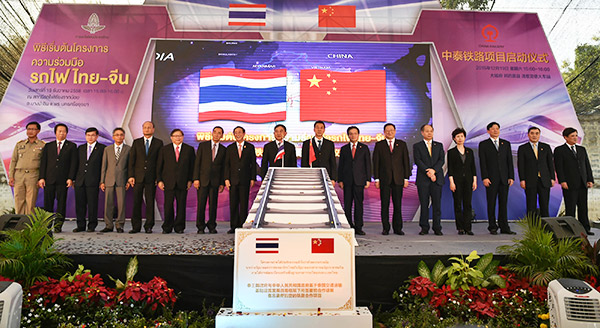 Officials from China and Thailand attend the launching ceremony of the railway project on Dec 19, 2015. [Photo/Xinhua]
Western media reported that Thai Transport Minister Arkhom Termpittayapaisith, citing bilateral disagreements on loan interest rates and the project's total cost, said on Friday that rather than seek financial assistance from China, Thailand would fund the construction of the first phase of a railway line linking China to Thailand, or the track from Bangkok to Nakhon Ratchasima province, itself.
We should not make a fuss over minor disputes between China and Thailand involving the construction of such a long railway, given that both Beijing and Bangkok hope to gain an expected profit from the project.
The construction of the railway should be based on mutually beneficial cooperation. It is thus normal for both countries to weigh up the pros and cons.
Thailand understandably hopes to maximize its interests, while it is also reasonable for China to set a bottom line for any preferential policies it extends the countries concerned.
Such a bottom line should not be broken just because of its friendship with Bangkok. Any excessive concession to one country may be viewed by another country as an excuse to demand similar or more concessions from China in the future.
The railway linking China's Yunnan province to Thailand is a part of China's Belt and Road Initiative, but all relevant countries should be aware that every project under the initiative should be conducted in line with the basic principles of international economic cooperation.
In its effort to push for the construction of a pan-Asian railway linking Yunnan province to Singapore, a railway that will inevitably contribute to the economic development of the countries along the route, China should make particular efforts to prevent its strategy from being capitalized on by certain countries seeking to gain excessive concessions from it.
Production insufficiency in Southeast Asian nations, such as Thailand, and overcapacity in China mean that the two sides are economically complementary and any projects conducted to tap that potential will benefit all peoples.
The emergence of any disputes among them should not weaken their adherence to the pursuit of mutual benefit.