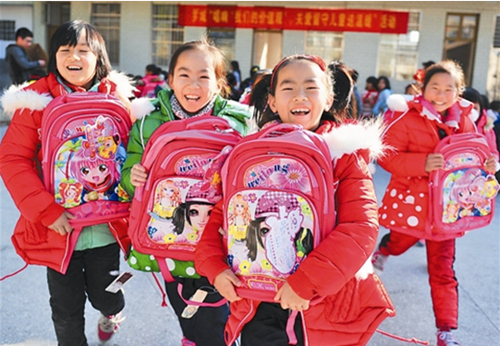 The left-behind children of Bantuan Primary School in Qiaoshan village, Luocheng Mulao autonomous county, are happy to receive new schoolbags and down jackets from local government and charitable people. [Photo by Meng Zengshi/Guangxi Daily]
A national census is to be conducted to find out the exact number of left-behind children in rural areas. The Ministry of Civil Affairs revealed over the weekend that a joint mechanism of 27 State departments will carry out the census, the results of which will help make possible targeted help for such children.
At present, there is little support for children left behind in the care of their grandparents or other relatives or else left to fend for themselves while their parents work in cities. Reports about juvenile delinquency or the suicides committed by such children have only added to the bleak picture.
The State Council, China's Cabinet, has called for more care and attention for such children and a detailed account of their situation so help can be provided for them.
Yet we don't even know the exact number of left-behind children. The All-China Women's Federation estimates there are about 61 million.
But what we expect of this much needed census is not just the exact number of left-behind children, but also detailed information about the different situations they are in.
On the one hand, such information is more than necessary for the central government to make related policies and determine how much money should be allocated to help them. On the other hand, only with detailed information about these children will it be possible for that money to be spent effectively.
Given the scenario that millions of such children will possibly follow in their parents' footsteps and leave their rural homes to work in urban areas in the coming years, whether they can come into adulthood both physically and psychologically healthy will directly affect the quality of the country's labor force.
So a well organized and conducted census is urgently needed, as are the subsequent related policies that help those children lacking parental support and guidance get the care and attention they need to grow up into psychologically healthy adults, as well as policies to help migrant workers to settle permanently in the cities where they work so their children can join them.