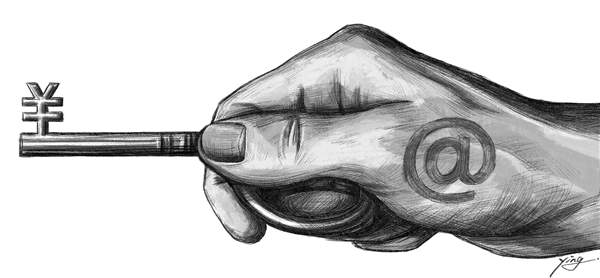 Wang Xiaoying/China Daily
Venture capital is constantly scouting for new opportunities and a budding comedienne whose cottage industry of producing and posting video clips of one-woman sketches has proven that a laughing matter can be serious business as well.
I had never heard of Papi Sauce until the news broke that she got an infusion of 12 million yuan ($1.85 million) in venture capital. Reports put her value at 300 million yuan.
Papi Sauce is the online handle of Jiang Yilei, a 29-year-old graduate student at the Central Academy of Drama. She has produced, starred in and released dozens of short videos in which she plays a variety of characters and lampoons things like dating rituals.
On Sina Weibo, she has amassed 6 million followers; Youku has registered a total of 26 million views for 31 of her skits; many of her videos have got millions of clicks and thousands of praiseful messages, including WeChat rewards that range from 2 to 166 yuan, from each of thousands of admirers.
And Jiang's star emerged just in October 2015, which means it took only half a year to mint what many are calling "the first Internet celebrity of 2016". In Chinese, "sauce" is a homonym of "Jiang", her surname.
What distinguishes her from other Internet starlets-who, by the way, are mushrooming all over cyberspace-is her comedic thrust.
Although she touts herself as "a combination of beauty and talent", it is supposed to be tongue-in-cheek and is part of her comedic persona. She is studying to be a director at the famed school and without the talent part she may not be able to stand out in a large crowd of oval-shaped faces.
Others who use video to achieve fame or notoriety tend to be bombshells or peddlers of beauty tips or computer-game know-how. Some verge on striptease and other forms of titillation or profit from offline trades of suspicious services.
As a comedienne Jiang has great potential.