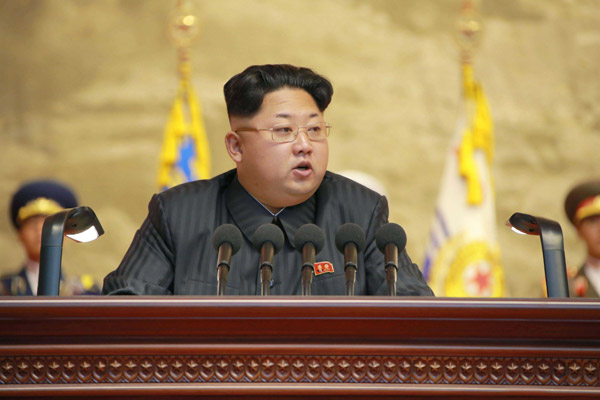 Photo provided by Korean Central News Agency (KCNA) on July 26, 2015 shows top leader of the Democratic People's Republic of Korea (DPRK) Kim Jong-un making a congratulatory speech at the 4th National Conference of War Veterans on July 25, 2015. [Photo/Xinhua/KCNA]
The claim by the Democratic People's Republic of Korea on Wednesday that it had successfully tested a miniaturized hydrogen bomb has sent shock waves across the world.
Naturally the claim, which came after a 4.9 magnitude quake was detected close to its nuclear test site at Punggye-ri, has sparked widespread criticism from the international community, because, if true, it was risky, irresponsible and reckless.
The Chinese government's stance is clear and consistent: It unequivocally opposes the test and nuclearization of the Korean Peninsula, as only denuclearization of the peninsula conforms to the region's shared interests in peace and stability. China's Foreign Ministry has "strongly urged" the DPRK to keep its promise on denuclearization and stop actions that will lead to the situation deteriorating.
There should be no tolerance and compromise on this issue.
The nuclear test, if confirmed, not only challenges the UN Comprehensive Test Ban Treaty, it also violates a string of UN resolutions already in place against Pyongyang.
It will almost certainly lead to a push for a tightening of international sanctions, which will worsen the economic woes of the country already in desperate need of international assistance, and make life harder for its people.
Pyongyang cited the United States' "stance of aggression" as an excuse to justify its development of nuclear weapons, which it hopes will make it more secure.
It will not.
The DPRK has yet to realize that it can only ensure its security through negotiations under the framework of the Six-Party Talks, which aims to make the peninsula nuclear free.
By refusing to engage in any meaningful talks for years, and by playing the nuclear card time and again, the DPRK is only alienating itself further from the international community. This is definitely detrimental to its interests.
Despite the hard-nosed push by Pyongyang to acquire nuclear weapons, the international community needs to remain sober-minded and try to prevent tensions on the peninsula from escalating. Countries in the region must be alert to an arms race developing in East Asia, because that will further complicate the situation and pose a grave threat to regional peace and stability.
Moreover, if the DPRK's latest test is confirmed it will indicate that measures taken by the international community to curb the DPRK's nuclear ambitions have been to no avail.
The international community needs to reaffirm its collective wisdom and determination and better coordinate its actions to resolve the issue as soon as possible.