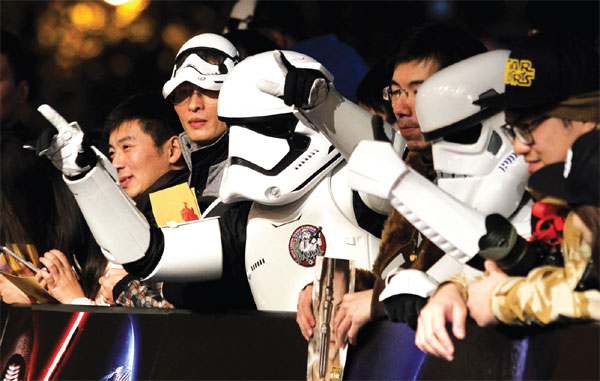 Film fans dressed as Stormtroopers gesture at the red carpet event for the premiere of Star Wars: The Force Awakens on Dec 24, 2015 in Shanghai. [Photo/AFP]
In spite of the darkening global growth prospects and the unexpected plunge in the domestic stock market on the first trading day of this year, Chinese consumers will no doubt demonstrate their growing importance to the global movie industry when Star Wars: The Force Awakens opens in this country on Jan 9.
This latest installment of the blockbuster series has already earned more than $1.5 billion worldwide so far, and there are anticipations that Chinese moviegoers will give the film a shot in the arm big enough to allow this space opera sequel to finally shoot past the record $2.8 billion box office returns of Avatar.
The filmmaker has expressed worries that, with the movie-going demographic in China becoming increasingly younger, the seventh film in the "Star Wars" series might not attract an adequately large number of Chinese viewers. That is a fair concern given the considerable cultural differences and preferences between Chinese and Western cinemagoers.
But the latest statistics of China's box office are more than reassuring.
According to the State Administration of Press, Publication, Radio, Film and Television, films screened in China raked in more than 44 billion yuan ($6.78 billion) in 2015, jumping by 48.7 percent over the previous year when the country's box office soared by one third to about 30 billion yuan. It is estimated that the Chinese box office may surpass $10 billion annually in a few years.
The highest growth of box office since 2011 will certainly neither guarantee that the pace of growth will continue or accelerate in coming years, nor make the huge success of The Force Awakens a sure bet.
Nevertheless, it is another sign that Chinese consumers are rising to assert their increasing influence at home and abroad as a key driving force for growth.