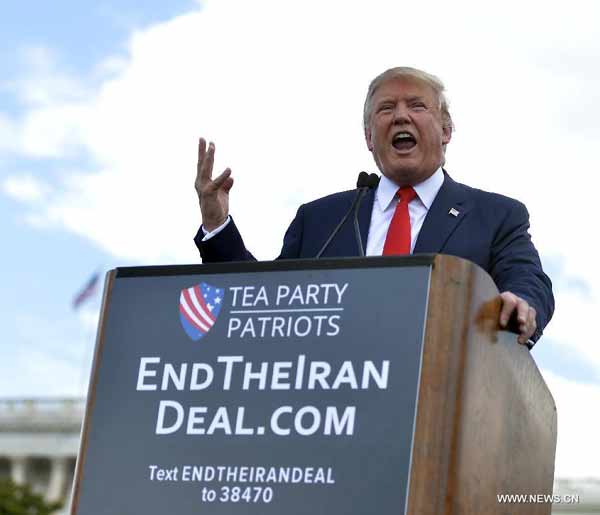 US Republican presidential candidate Donald Trump speaks during "Stop the Iran Deal" rally at West Lawn of the Capitol in Washington D.C., capital of the United States, Sept. 9, 2015. [Photo/Xinhua]
Donald Trump has been hitting the headlines almost every day for his absurd and inflammatory comments. To the surprise or chagrin of many people, the billionaire running for the Republican presidential nomination has dominated the Republican race since July.
According to a CNN/ORC poll released on Dec 23, 2015, Trump led the race by 39 percent support with Ted Cruz (18.6 percent) and Marco Rubio (11.6 percent) following him. The other Republican candidates are yet to figure out how to shake off Trump's lead.
Political observers, however, don't consider Trump a "reliable" candidate; they believe he may soon fall behind in the presidential nomination race because of his careless and ridiculous remarks, for example, on immigrants and Muslims.
Still, people are wondering how a person like Trump could dominate the Republican field into 2016.
The "Trump phenomenon", no matter how absurd it is, reflects certain basic changes and trends in US domestic politics. The phenomenon is essentially based on popular contempt for political hypocrisy in the US, as opposed to a person's capability to formulate policies or even govern the country. It seems Republican voters want to change Washington's political model and expect a so called outsider to overturn the traditional pattern of politics, as most of them appear tired of the polarization in and dysfunction of the government and Congress.
Among the voters who don't believe traditional politicians can put the US back on track and thus support Trump, white blue collar workers comprise the most consolidated support group. In fact, the group has become an important component of the Republican vote bank. According to a PRRI-Brookings survey, conducted by Public Religion Research Institute in partnership with the Brookings Institution, 55 percent of Trump's supporters are white and working class while the demographic most likely to back him comprises men aged between 50 and 64 with no more than a high school education and worries about job security because of competition from immigrants.